The park near our house is full of memorial trees, and now, we also have a memorial tire swing.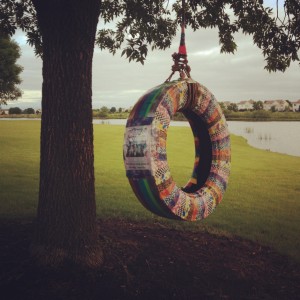 An 11-year old girl, Jordan Oliver, drowned in a retention pond behind her school last week. She was playing along a bridge with a bunch of other kids, slipped into deep water, and didn't come back up. There's a lot of talk about whether bullying was involved, but rumors spread after a tragedy. Whatever happened, a little girl died and the children who with her will never be the same, whether someone dared her to go in deeper water or not.
Jordan lived in my neighborhood, I learned yesterday. I was walking the dog in the late afternoon, and saw two little girls standing, with some purpose, by this colorful tire swing. A woman in a yellow sport shirt and I stopped to talk to them. The girls, absent-mindedly but constantly, ran their hands over the tire as they talked to us. The girls and this woman were all neighbors of the Oliver family. It sounded as though they'd been planning to make a tire swing together and Jordan had been helping to clean off an old tire in someone's yard.
Jordan's brothers made this tire swing (she was the youngest of four). It's wrapped in colored duct tape and there are little messages all over it, written with a sharpie. Including this plea, "If this tire swing falls down, please return to the Oliver family."
I'm still devastated by the death of this little girl. But I love seeing this swing. I hope it helps the family move through their grief.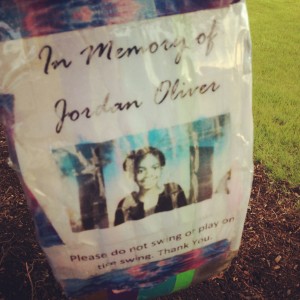 (I know it seems strange that no one can play on the swing, but it's decorated and hung for display, not for swinging…)