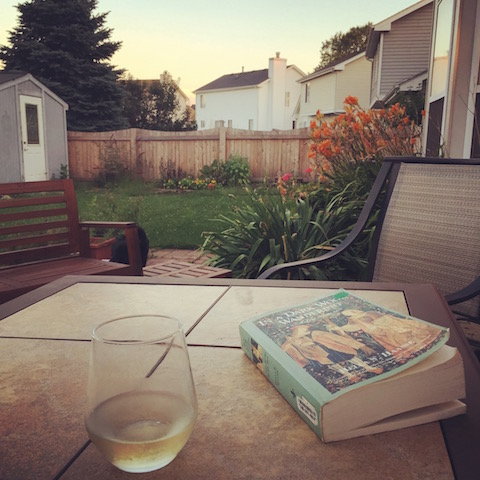 A few people have been asking me how the garden is this year. Here's an abridged tour of the Vicar's backyard from this past spring, and now summer.
Last fall, I planted five (5!) different kinds of garlic – each with an obscure name. Here's my very accurate and detailed planting map: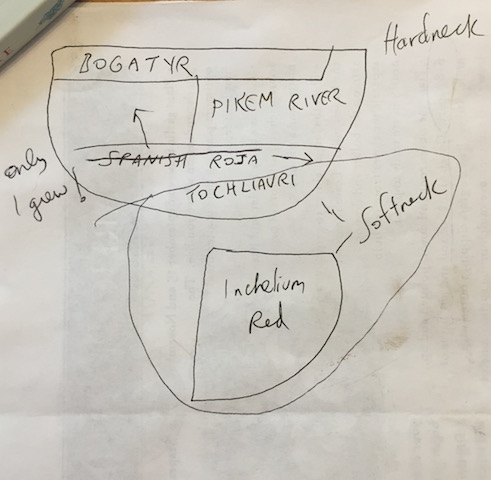 Four of the five varieties produced beautiful, full cloves, most with pretty red and purple stripes. My harvest is now drying and curing in the shed.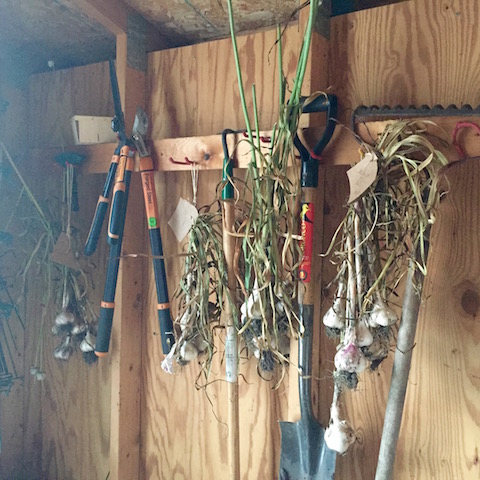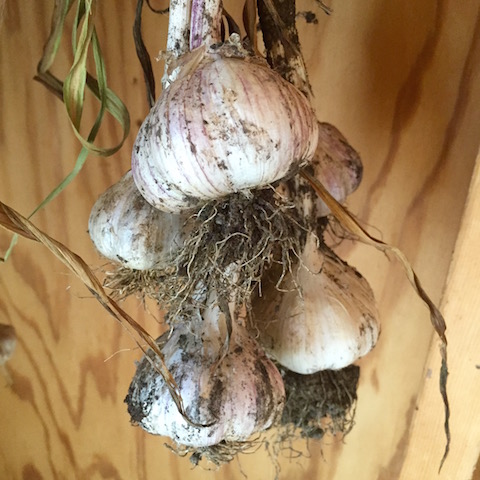 I only planted one tomato plant (it's just as well, with the chilly summer we've had), but I filled a bed with strawberry plants this year. This first spring only a handful of berries appeared, but there will be many more next spring (fingers crossed).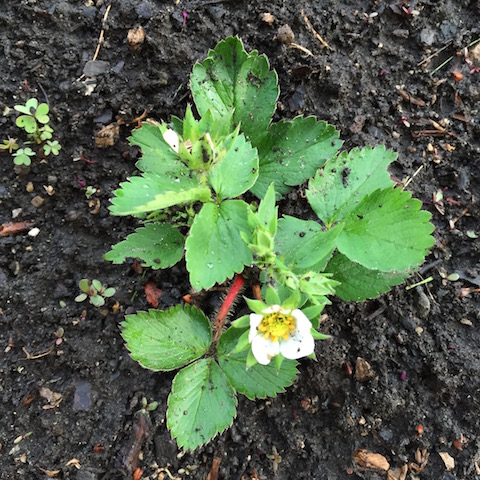 I planted fava beans for the first time, too. It's fun to grow things you can't find in stores. Fava beans have the most interesting looking flowers.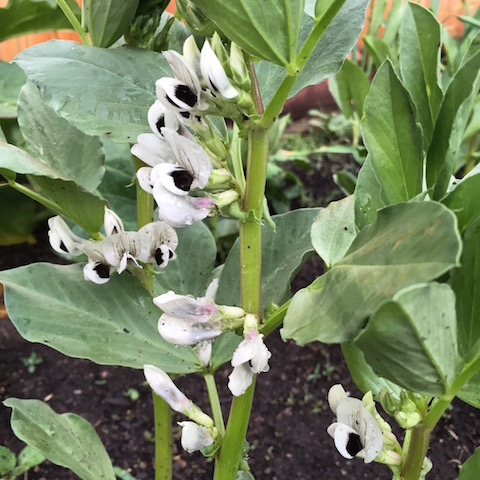 They take some work to shell, boil, and then de-skin but I thought it was kind of interesting work to do, feeling the beans in my hands. There was only a bowlful, too – a bushel might have been tiresome.
I tossed them with olive oil, lemon juice, salt, pepper, fresh mint, and red pepper flakes and piled them on toast with parmesan cheese and some lettuce. Yum.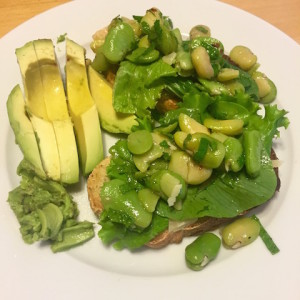 Maybe I'll grow two bowlfuls next year?
I replanted some of my favorite annuals – basil, jalapeños, nasturtiums, and sunflowers. I planted 12-foot sunflowers – but the rabbits ate every last seedling. The eight footers came up just fine (why?).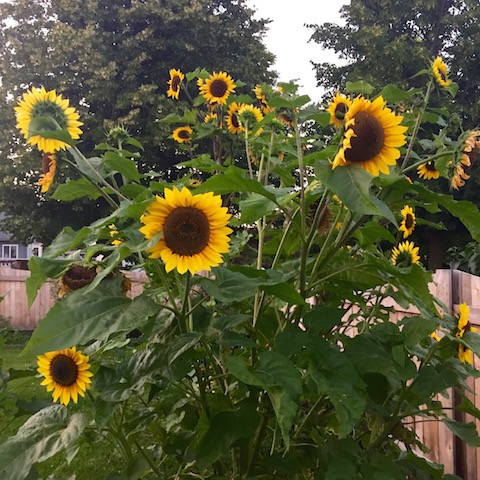 I also like to plant the annual herb, borage. It's a strange little plant with hairy stems, prickly leaves, and the most beautiful star-like blue flowers. You can sprinkle the flowers on salads – they taste a little peppery.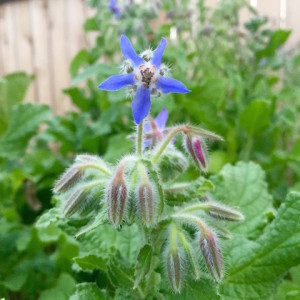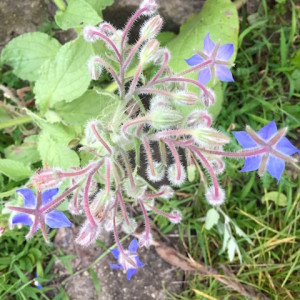 Perennials are good friends and old favorites. Especially prairie natives, like coneflower, black-eyed Susan, and daylilies. They sing Summer! to me.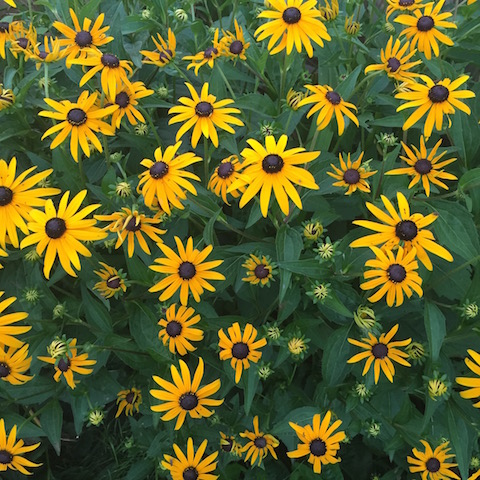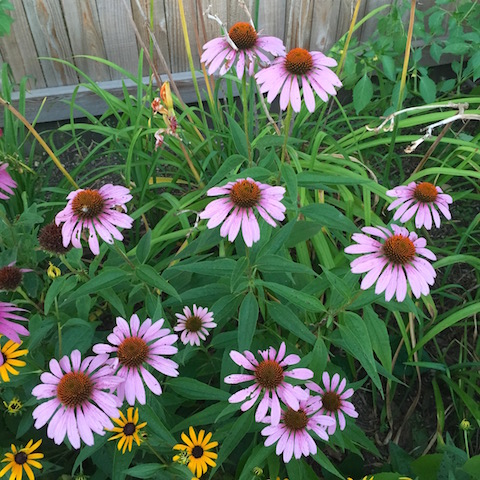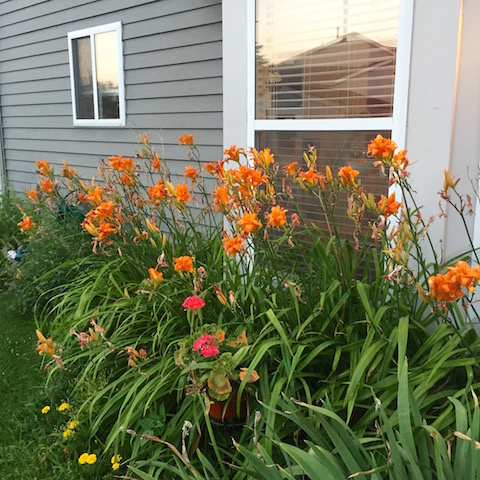 For the second year in a row, we have a volunteer gourd vine springing forth from our compost bin. Last year, two crept most of the way across the yard and along the fence. In the fall, they produced a couple dozen gourds. Our neighbor is letting one of them grow through our fence and across his yard this year, too. ("Gourd fences make gourd neighbors"???)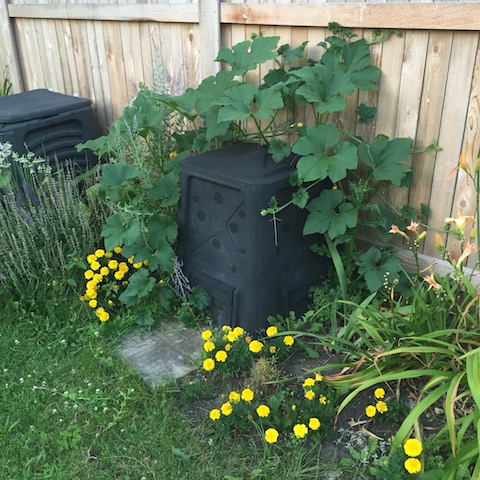 My garden sometimes seems like a bit of a mess, but it's nice to see things come up, bloom and flourish, and finally die down — everything taking its turn with the season. We like to sit out there with coffee or wine, depending on the time of day, and take it all in.