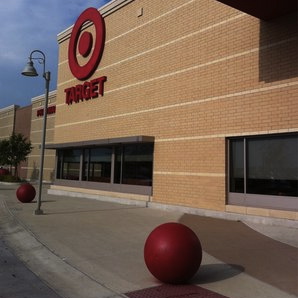 This morning, I wrinkled my brow in the driver's seat of my car, considered my options, and took off my clergy collar before walking into Target. I don't wear a collar every day, but when I do, this is often a choice I have to make. Pumping gas, going into restaurants and stores, walking across downtown Chicago to a meeting, on a train or other public transportation: Will I go incognito? Or in my bright, white, plastic collar? (You can get a linen version, but it's much easier to keep plastic clean and unwrinkled.)

I was on my way to bring communion to an elder member at her home and wore a collar to honor that visit. She had to cancel so I had some time on my way to the office to stop at Target and pick up a few things I'd been meaning to get for church.
Would I go into Target as a pastor? Or as a person?
I feel ashamed whenever I feel I have to make this decision. Am I ashamed of my work? Don't I want to be a public witness to the existence of women in the clergy? Why not make myself available to people who might want to talk to a pastor?
But I feel like a spectacle. Especially as a girl in a collar – a young one, at that. My seminary dean, Gary Hall, told us students that a collar is like a tiny movie screen; people will "project" all kinds of things onto it about you and who they've decided you are: Saint, Fool, Judge, if you're a man: Father.
If you're a woman in a collar, add: Nun, Huh?, Abomination, Halloween Costume. (Literally, a friend of mine was in her collar, on the way to the hospital, one day in late October and went through the McDonald's drive-thru where the cashier said, "Nice costume!")
Most clergy, even Roman Catholic priests, don't wear a collar in everyday public life unless we're functioning in a specific role (hospital visit, community meeting, vigil, protest). So, in Illinois anyway, a collar is a strange thing to see in a grocery store, at a gas station, or in a restaurant. Even on an older man who "looks like a pastor", maybe with pleasantly greying hair and some thoughtful spectacles:
Collar-wearing has never brought words of fury down on my head, but it attracts attention. And sometimes, I don't have the emotional energy for confused looks or awkward comments. "Are you a nun?" "You seem awfully young to be a minister." "I'm not that into organized religion." "I'm so glad to see a woman pastor!" Instead of a person, I'm a symbol of The Church. I imagine members of the military feel the same when they're in uniform – they're not a person, they're A Soldier.
Some will say that I AM different, that I do represent The Church and I should claim that. Maybe they're right. But I'm not sure that's my theology for the priesthood – to stand apart as a More Spiritual Person. To be a Public Religious Leader. To be a Holy Presence wherever I go. Must clergy always be public property in that way? I belong to the people of my congregation yes – I am theirs. Their priest, comforter, person-to-pray-for-them, preacher, and teacher. But am I also that for everyone I meet? For the people in Target? Does wearing a collar even communicate that message?
Or does it just mark me as a novelty?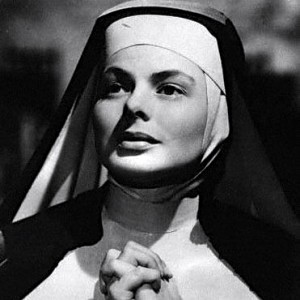 A final irony: if you're wearing a clergy shirt, with a neckline sewn to accommodate a clergy collar – a little button hole and a strange, high neck — you still look rather odd. But I never attract attention in a high-necked black shirt the way I do in the collar itself.
I'm a priest. After six years of ordination, I'm still learning what that means to me and to my community. Maybe I always will be.