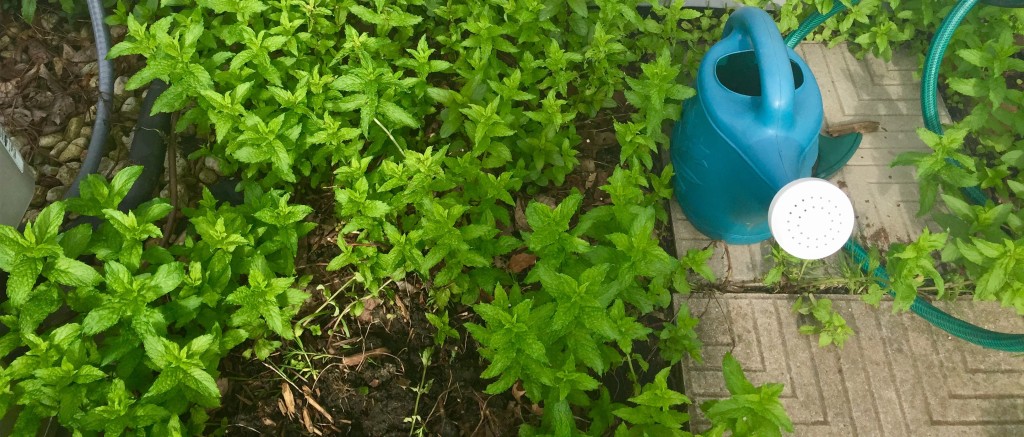 My bucolic suburban homestead is slowly being taken over by backyard mint.
I admit, I opened myself to this invasion when I bought two plants four years ago – one "chocolate" mint, one spearmint – and planted them. Not in a pot. Not in two pots. Not in a window box. In naked, unprotected ground.
I planted it under our hose spigot, so I smell it every time I go to fill a watering can. That's wonderful.
I can't stand the idea of paying $1.99 for a little bundle of mint at the grocery store. I grew up with a patch of mint in our backyard, straining between buildings to get a little city sunshine. It's just part of the definition of "backyard" for me.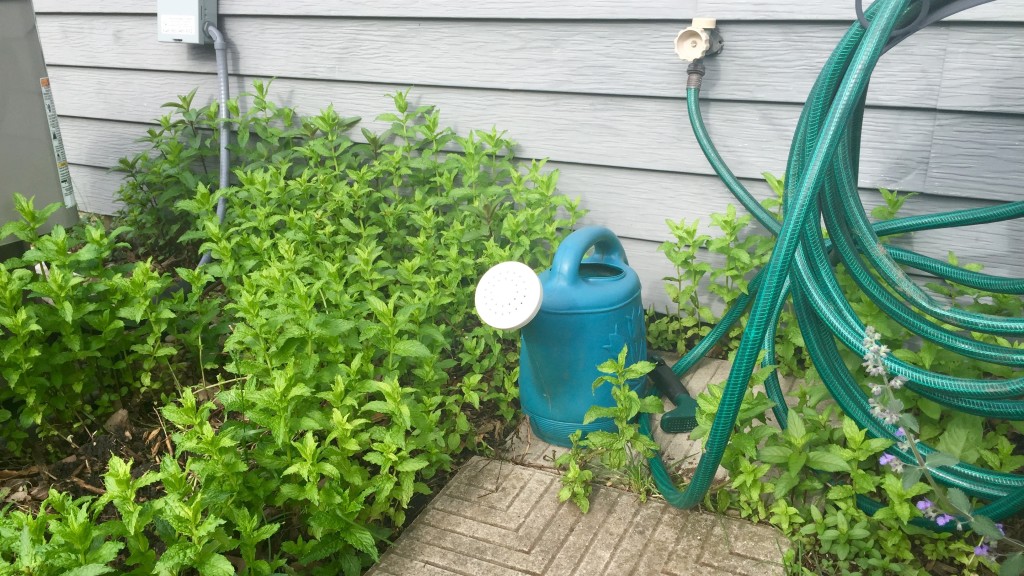 But it's slowly spread. It looks unwieldy, like something from that series "Life After People."
One year, I tore it all out. But it grew back from bits of root left behind. I considered poisoning the mint with an herbicide to kill all those pesky root bits, but couldn't quite bring myself to.
In some ways, the invasive mint keeps my corner of suburbia a little more wild, I guess.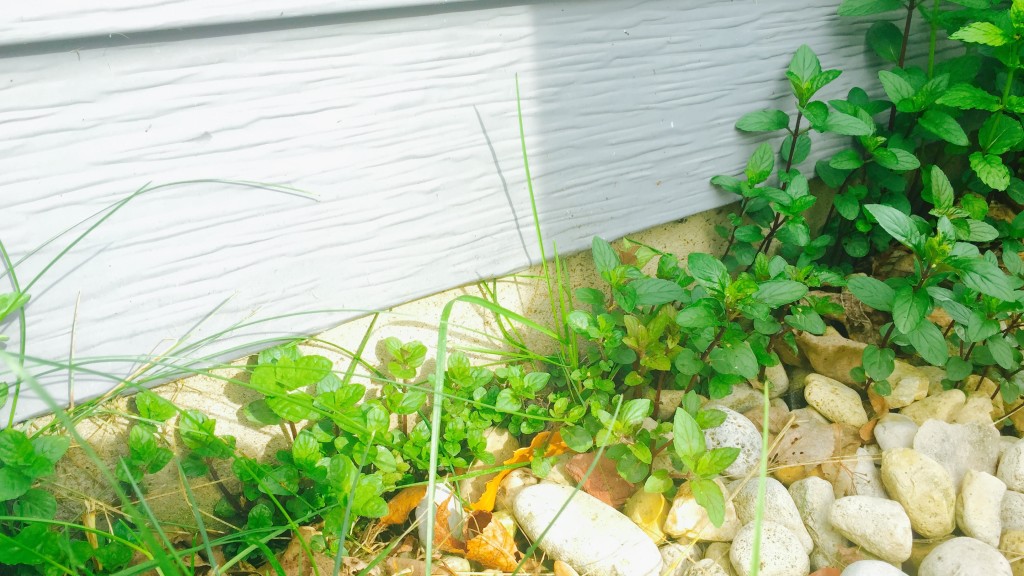 Here it is, creeping along behind the A/C unit, towards our back gate – trying to make a break for it, evidently.
Instead of fighting the mint, I am going to try and make friends with it this year. I am embarking on something I'm calling "The Mint Project" – to find recipes using mint that I'll like enough to make regularly. This way, maybe I'll harvest it more than the one or two times a summer I make Greek Pilaf from the Moosewood Cookbook. I think this is called the "If You Can't Beat 'Em, Eat 'Em" method – see also Asian Carp, Blackberries, and Venison. (Among others.)
On my Mint Project wish list so far: Homemade Mint Ice Cream, Summer Rolls, Mint Pesto, and Mint Lemonade.
If you have recommendations, I'd be glad to know about them.
My first recipe attempt was Spicy Shrimp Salad with Mint. I liked the idea of having mint in a salad, but mixed with the arugula it was a pretty strong taste. But the spicy shrimp were dynamite. It was also just as good the next day for lunch, cold.
Make Again? On a scale of 1 to 5 (5 being "I'd eat this once a week!") this was a 4. If I were going to make this again, I might use a milder green, add a few chopped radishes or other veggie bits to add crunch, and tear the mint leaves into smaller pieces. I would put it all over Asian noodles or pasta, too, for a more filling meal.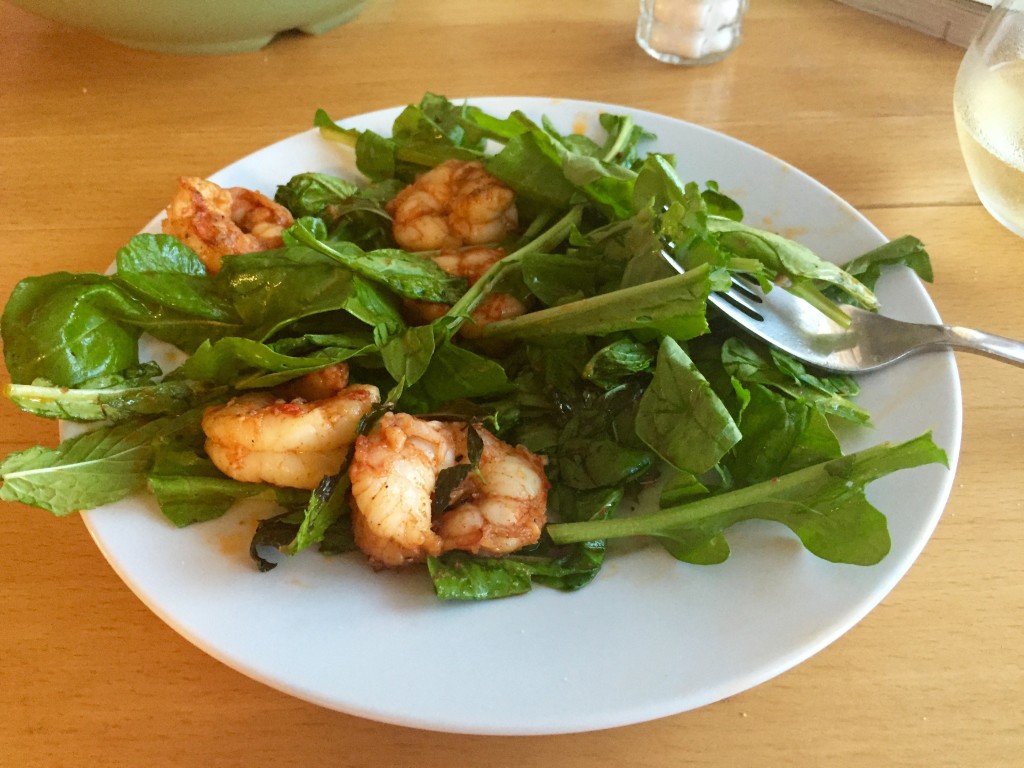 2/3 pounds shrimp in the 15-to-30-a-pound range, peeled (deveined, if you like)
1/4 cup olive oil
Salt and freshly ground black pepper
1/2 teaspoon cayenne, or to taste
1 teaspoon paprika
1 teaspoon minced garlic, or more to taste
6 cups arugula or other tender greens
1 cup mint leaves
2 to 3 tablespoons lemon juice. 
Place a large ovenproof skillet or thick-bottomed roasting pan on the stove over high heat. Put the shrimp in a medium bowl, drizzle with the olive oil and sprinkle with salt and pepper. Add the cayenne, paprika, and garlic, and stir to combine.
When skillet smokes, add the shrimp mixture. Shake the pan once or twice to distribute them evenly, brown well, then turn once. The shrimp are done when opaque and firm, about 2 minutes.
Toss together the arugula and mint in a large bowl. Add the shrimp with its pan juices and the lemon juice. Toss to combine; the hot shrimp should wilt the greens slightly. Serve immediately. Yield 4 servings