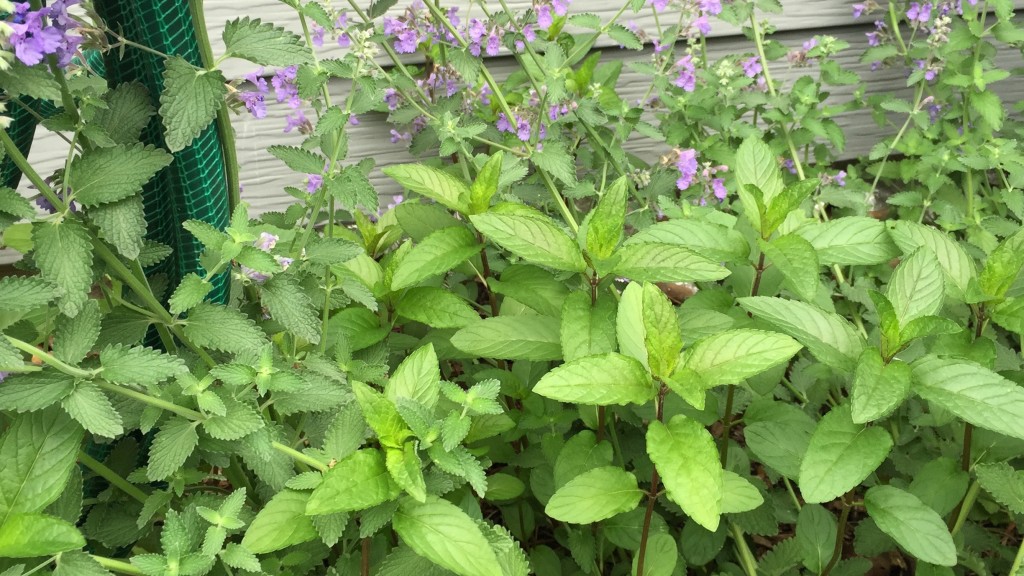 I have become obsessed with my backyard mint project. 
Over the holiday weekend, I tried seven (7!) different mint recipes. Adam thinks I'm nuts. He has also had to empty our dishwasher (his job in our division of home labor) like, eight times in three days. I might have a problem.
I will share the results with you, loyal readers. Especially for any of you also living under the siege of Mentha Spicata. (Or Mentha Sachalinensis. Or Mentha citrata. Or any of the thirteen – 13! – varieties of common mint…)
First, I tried a couple of dip recipes. One was yogurt and zucchini based (photo below). It was cool and creamy, with just the slightest zing from the cayenne. I tried a white bean dip with almost the same ingredients but I put in too much oil by accident and couldn't save it! Stay tuned for possible do-over.
Zucchini, Mint and Yogurt Dip
(adapted from a recipe found at The Kitchn)
1 large zucchini, sliced lengthwise and cut into 1-inch half-moons
2 cloves garlic, minced
1 tablespoon olive oil
1/2 cup Greek yogurt
2 tablespoons fresh mint, roughly chopped
zest of 1 lemon
salt and pepper
dash cayenne
Heat 1 tb. oil in a skillet over medium-high heat. Add zucchini slices and sprinkle with salt and pepper. Add garlic after 2 minutes. Cook about 5 minutes, total, turning once or twice, until zucchini is nicely browned. Remove from heat and place in bowl to cool to room temperature.
Place garlic-zucchini mixture in a food processor. (A blender might also work.) Add mint, zest, salt, pepper, cayenne, and yogurt. Pulse until pureed. Place in a serving bowl and garnish with olive oil, mint leaves, and/or a squeeze or slice of lemon. Serve with fresh bread, cut veggies, crackers, or pita chips.
It was a humid weekend, and I got thirsty. This is my own creation, based on some things I found in our fridge.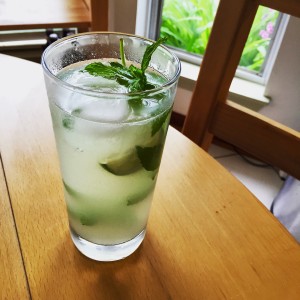 Minty Lime Mocktail
On a Pentecost weekend, the perfect thing to drink at 9 o'clock in the morning. (Acts 2:15)
fresh mint
ice
limeade (I used Simply Limeade from the grocery store) or lemonade
LaCroix, seltzer, or tonic water, any flavor you like
lime or lemon wedge
Put mint in glass first, then weigh down with ice cubes. Add other ingredients, squeezing the lime or lemon wedge over all. 
When I was little, I read a "scratch-n-sniff" book with a scent I never forgot – chocolate mint cookies. I've never tasted one but this seemed like the perfect opportunity to start. The recipes I found online used mint extract or suggested infusing butter with mint, but that didn't seem quite right. Also, the butter had to sit overnight before using. I decided I would try making mint sugar instead and using it in a chocolate cookie recipe from Deb Perelman's Smitten Kitchen cookbook. The mint sugar was very intense, so I decided to use half mint sugar, half normal sugar. The cookies have only the slightest hint of mint (Adam couldn't taste it at all), so maybe next time I will use more. These cookies are soft and chewy, reminiscent of brownies.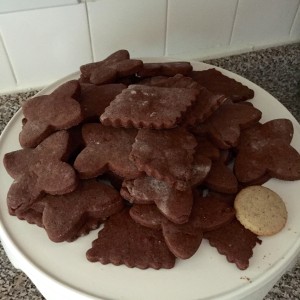 Mint Chocolate Cookies
1 cup fresh mint leaves, washed and dried
1 1/2 cups granulated sugar
3 cups all-purpose flour
2/3 cup unsweetened cocoa
3/4 teaspoon salt
1/2 teaspoon baking powder
2 sticks (1 cup) unsalted butter, softened
2 large eggs
1 teaspoon vanilla extract
Dry the mint leaves by running through a salad spinner, then pressing them between one or two clean dish towels. Move to a food processor and pour 2/3 cup sugar over. Pulse until blended. Set aside.
Preheat oven to 350 degrees. Whisk flour, cocoa, salt, and baking powder in bowl and set aside. Beat butter, mint sugar, and white sugar with electric mixer until fluffy (this is the weird part because the butter turns green). Add eggs, one at a time, scraping down the bowl. Mix in vanilla. Gradually mix in the dry ingredients. Wrap in plastic and chill for at least one hour.
Roll out cookie dough on floured counter. Cut into desired shapes, brushing extra deposits of flour off the top. (It mostly disappears once baked, so don't overly fret if they go into the oven looking white.) Bake on a parchment-lined baking sheet for 8 to 11 minutes (the former for 1/8-inch thick cookies, the latter for 1/4-inch cookies) until the edges are firm and the centers are slightly soft and puffed.
Transfer to a wire rack to cool. Yield: About five dozen, depending on how thin you roll the dough.
Coleslaw is one of the most adaptable and fun-to-eat salads in existence. Just chop up whatever veggies you have in your fridge, maybe a few fresh herbs, make a basic vinaigrette, mix, and eat over several days. We're members of a CSA (we get a share of vegetables every other week from a local farm), and when I don't know what else to do with all the produce, I make a slaw. Now I can add mint, too!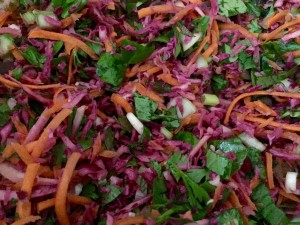 Mint Cilantro Slaw
Adapted from a recipe found at Bon Appetit.
½ small cabbage, green or red, shredded
1 cup carrots, shredded
2-3 cups chopped salad greens (I used pea shoots and baby bok choi)
3-4 sliced radishes, or salad turnips
3/4 cup chopped fresh mint
3/4 cup chopped fresh cilantro
4 green onions, sliced
DRESSING
7 tablespoons rice vinegar
2 tablespoons sesame oil (the dark, flavorful Asian kind)
2 tablespoons olive oil
juice of half a lemon
salt and pepper
Combine salad ingredients in large bowl. Mix dressing ingredients and season to taste with salt and pepper. Pour dressing over slaw and mix well. Taste, and add more salt if necessary.
Mint Water
What could be simpler?
Keep a "vase" of washed mint branches somewhere convenient, and put a sprig or a few leaves in a glass of water (or iced tea, or LaCroix) whenever. Or fill a water bottle or pitcher with water and add washed mint leaves. Take to the office or keep around the house, and you might just drink more water that day.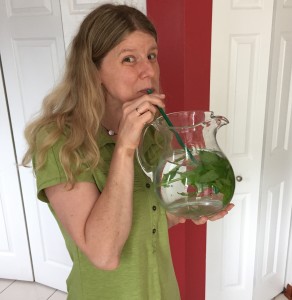 The mint sugar was fun but maybe mint flavor is, in fact, better conveyed with mint extract? Most recipes ask for extract, not fresh mint (apparently, most people don't like to make their lives as complicated as I do). Therefore, my Mint Project swan song of the weekend was making extract.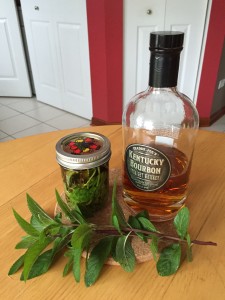 Homemade Mint Extract
small glass jar with a lid
generous handful fresh mint
bourbon, gin, or vodka
Pack a clean glass jar full of mint. The more you bruise and crush it, the more quickly the flavor will seep out. Pour alcohol over until jar is full. Top with lid and keep in a dark cool place to infuse. Taste after 4 weeks. If strong enough for your liking, strain and pour into a darker bottle, or let infuse for as long as 8 weeks. (I'll let you know how this goes on my end.)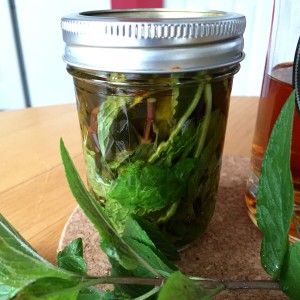 Still to come from The Mint Project: Mint Ice Cream, Chimichurri Sauce, Mint Tea, Mint Veggie Spring Rolls, and Mint Pesto… but per my husband's request, we're going to take a break for a while.
To be continued…