There's a lot of lawn in the suburbs. Not exactly eco-friendly. Here's our backyard, and it's mostly lawn.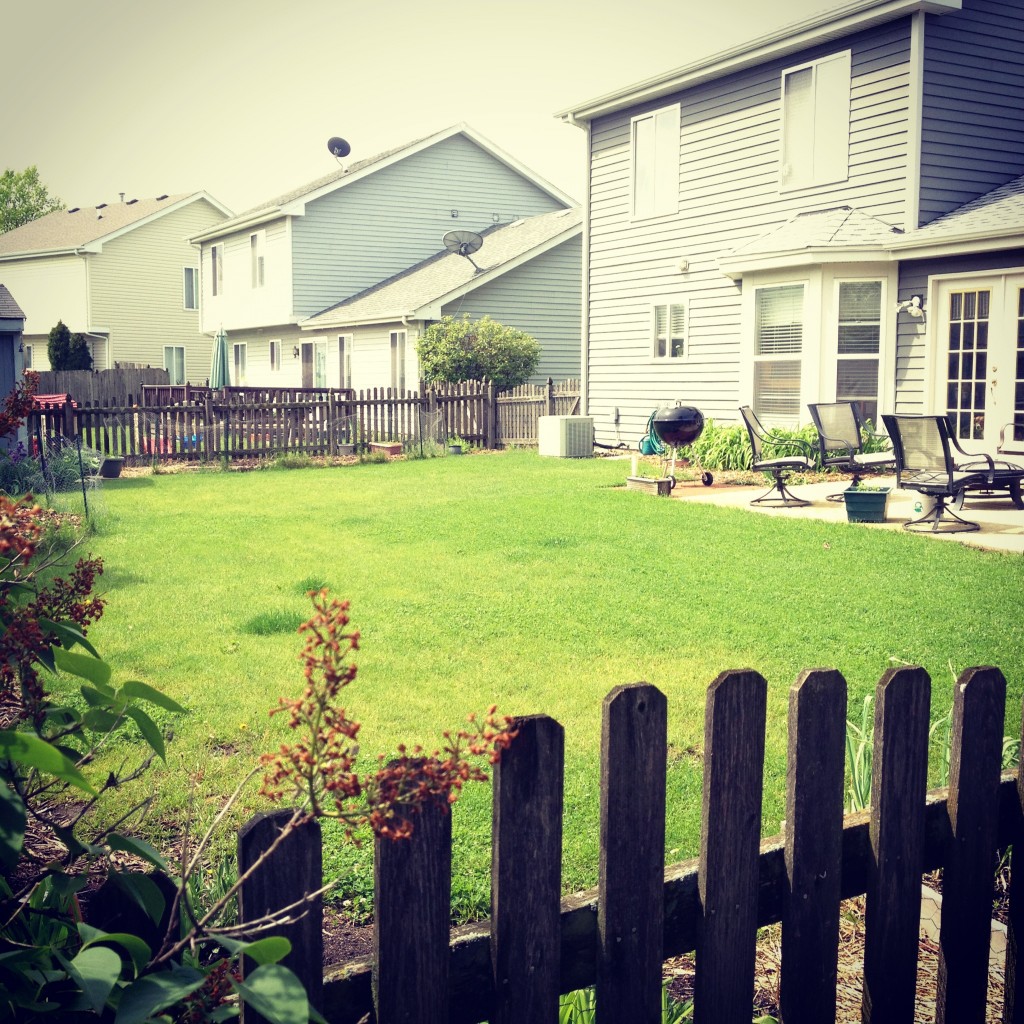 But it's cheaper to buy a house with a yard here than in the city. There's also a lot space to grow food, if you're so inclined. We're right down the street from industrial-size cornfields, but ironically, it's incredible easy to turn your yard into a little farm. Our includes compost bins, rabbit fencing, mulched paths, a pre-existing tool shed, and a rain gauge. Bolingbrook Code prohibits keeping chickens, although I've heard there are at least a couple folks who do it anyway. (Future Vicar of Bolingbrook investigative reporting story?)
We built raised beds in our backyard when we moved here, since some of my best twentysomething memories come from working on a couple organic farms. I'm not ambitious enough to try to raise ALL our produce, but I like to be in the dirt and grow things.
There were a bunch of decorative cement blocks laying around when we moved in, so we repurposed them to border two raised beds. (Actually, we paid a crew to do it. A guy who goes to our church designed the pretty shape.)  Here's one: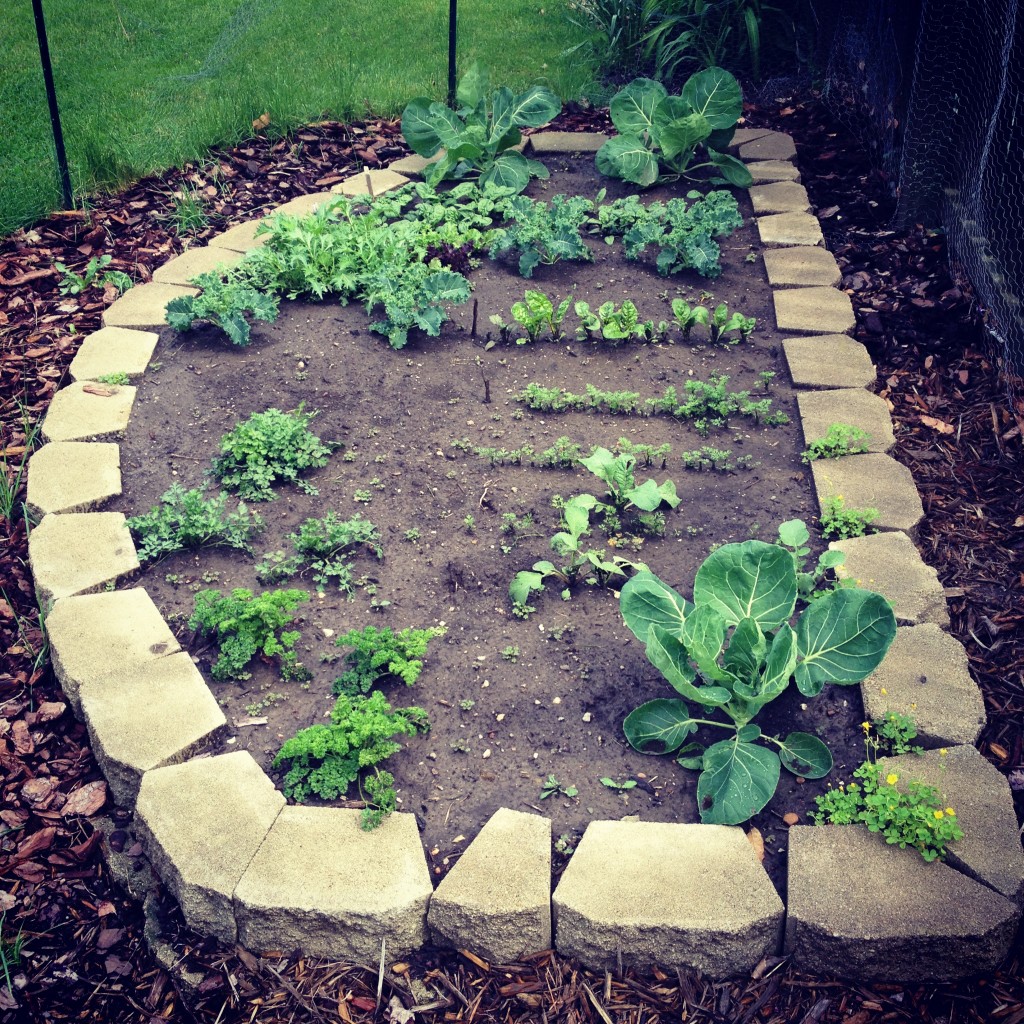 I cram a lot in there. We just need a few plants of each kind, since it's just for two people. Clockwise, from lower left: parsley, brussels sprouts, radishes & carrots, swiss chard, kale, brussels sprouts, spinach, salad mix, kale.
Adam's dad helped us dig and build a third bed (below) last spring, just with untreated boards this time. That's garlic, golden beets, lettuce, and more brussels sprouts (not sure how much we'll be able to eat come fall… but you have to buy seedlings in 4-packs and I can't bear not to plant them all).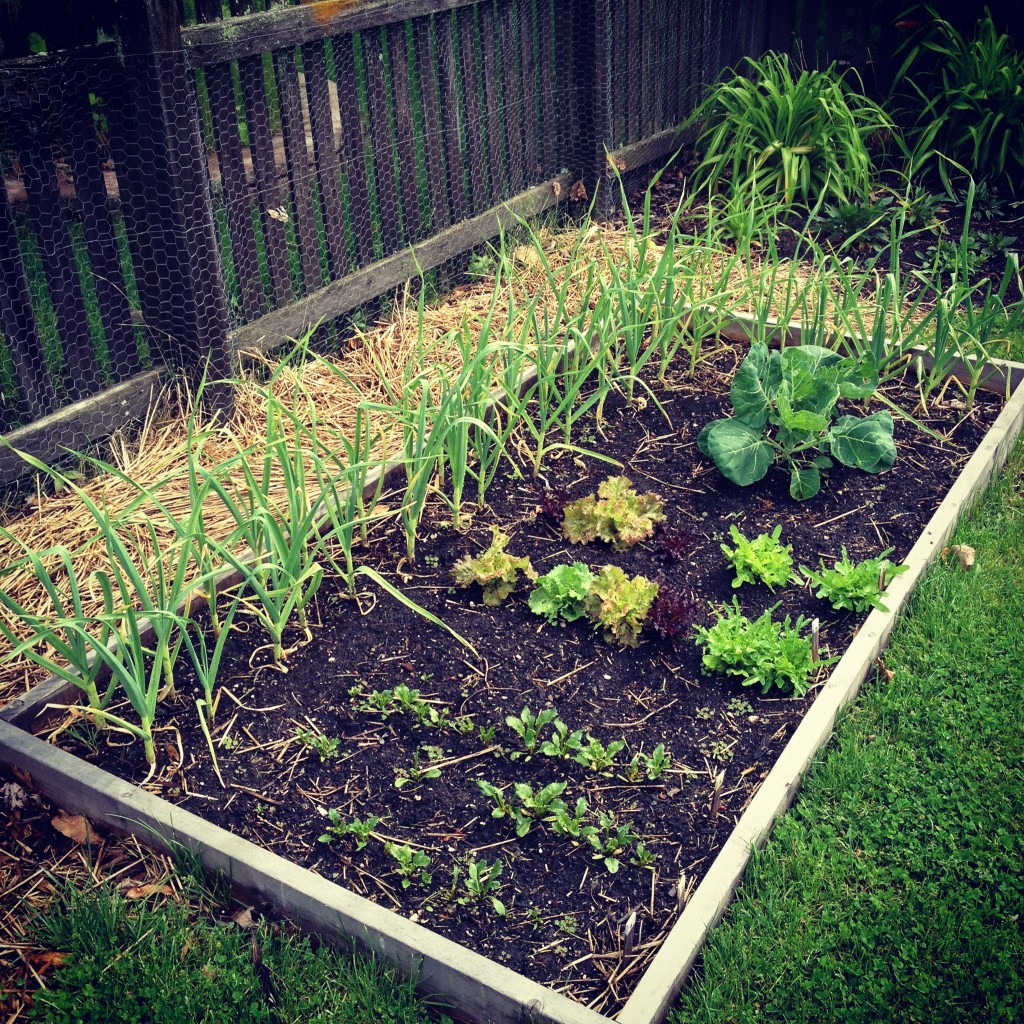 No rabbit fence on this one, but so far so good. The third bed is empty, but as it gets warmer we'll put tomatoes, peppers, and basil there.
Suburban living may seem cookie-cutter. But a lot of folks move here because, well, it's nice to have a yard. Whether you grow vegetables, set up a slide and a sandpit, build a patio or a pool, or let your dog run around. Maybe it sounds boring, but well, it's pretty darn nice.