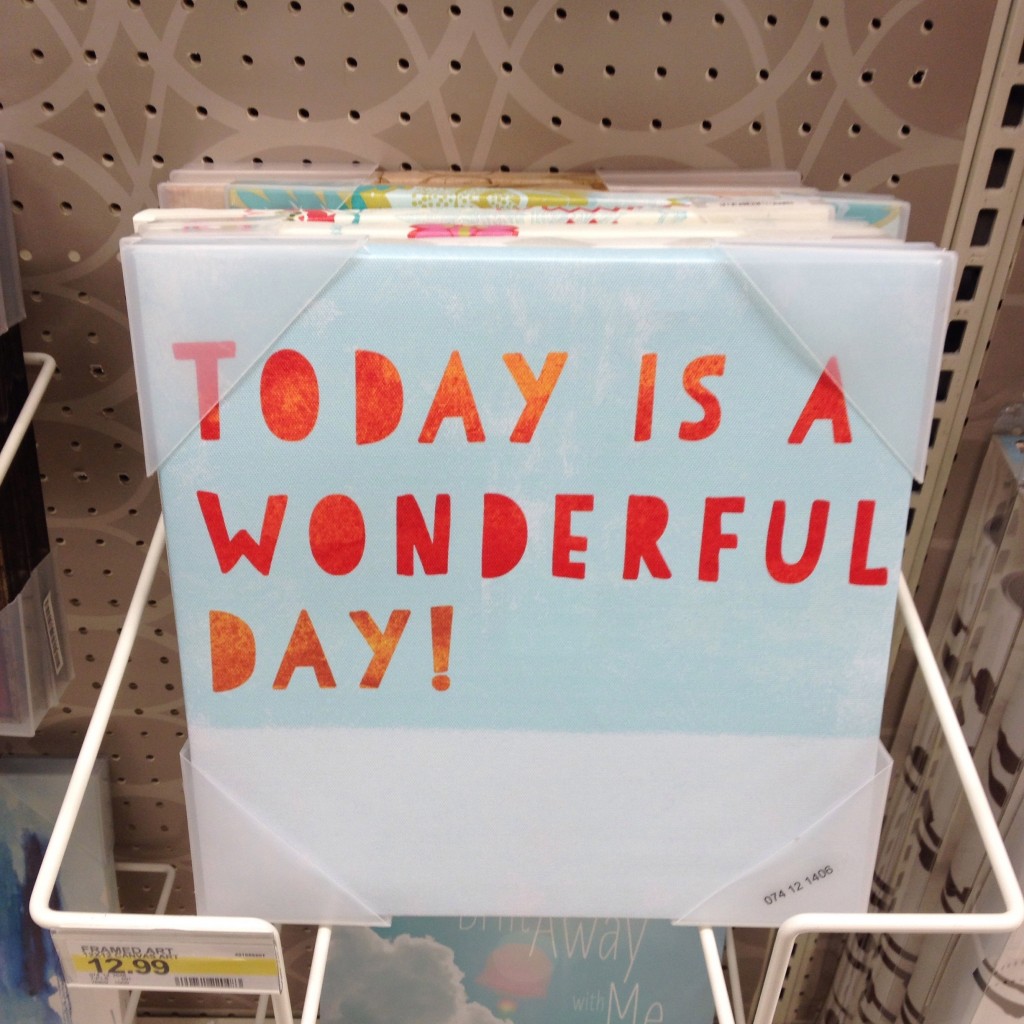 "Word art" has become popular. You can buy some at your local big box store. But sometimes I wonder if the "wisdom" peddled by some of these things is really all that helpful for people. Here are some examples from Target and Meijer: some I thought were good, others pretty bad.
For some reason this first one – "Today is a wonderful day!" – makes my heart sing.  No matter what you do or what happens, there are wonderful things that happen in every day. Maybe not if your mother dies that day; but still, the sun still came up. Maybe there's still grace in that. The Biblical version is: "This is the day that the Lord has made, let us rejoice and be glad in it" (Ps. 118:24). Again, not easy to do on some days.
I had a friend years ago who, when you asked how he was, would always say, "I'm perfect," even when you knew he was struggling. I think he was trying to say both "I'm whole" and "I'm trying." "Today is a wonderful day," reminds me of that. Although some days you might want to turn the sign to the wall. And that's ok.
This one, on the other hand, puts the onus for "making each day sweet" on the viewer.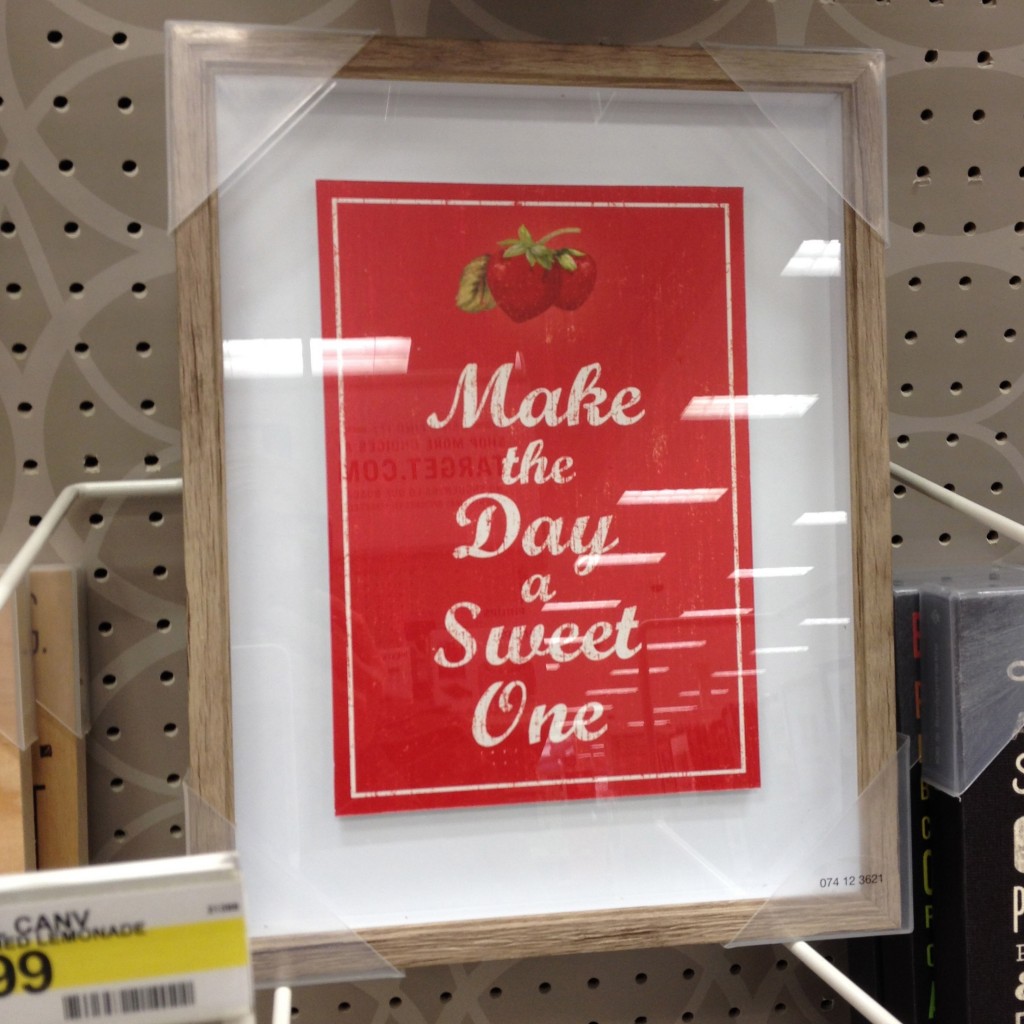 Today won't be sweet unless YOU make it sweet. This sign seems liable to produce guilt. If you work hard enough, you can make each day sweet. If it's not, it's your own fault. Same with this one: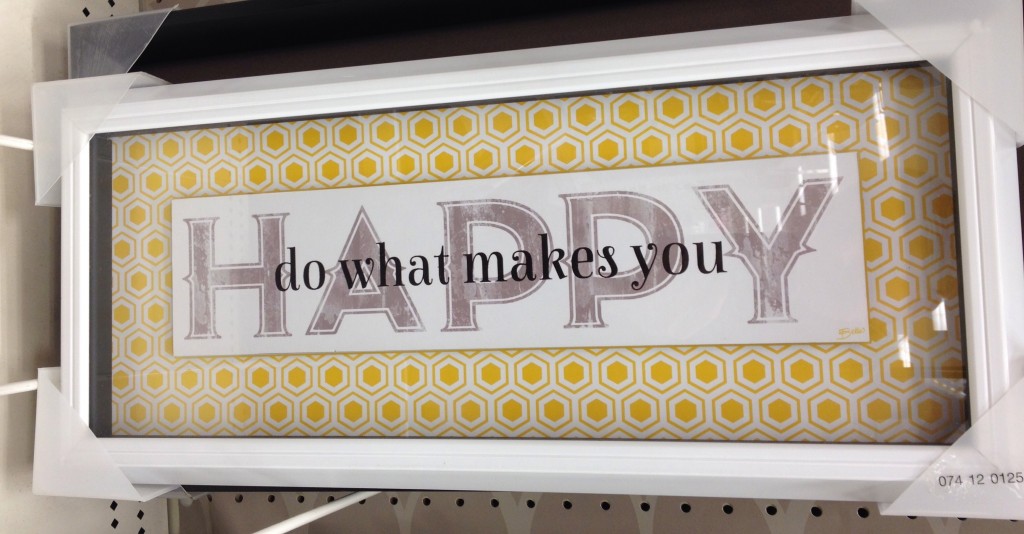 It's what you do that makes you happy. Like we have total control over this stuff. And do what makes YOU happy! You, you, you… (self-centeredness is a sure recipe for despair, if you ask me.) And forget all that unhappy stuff – remembering the poor, paying your taxes, disciplining your kids, compromise with your spouse, etc. I think this sign is misleading because what makes us "happy" (whatever that is) is a lot more complicated than doing whatever we want.
Some of these are dangerous to hang in your house, if you ask me.
This one, too: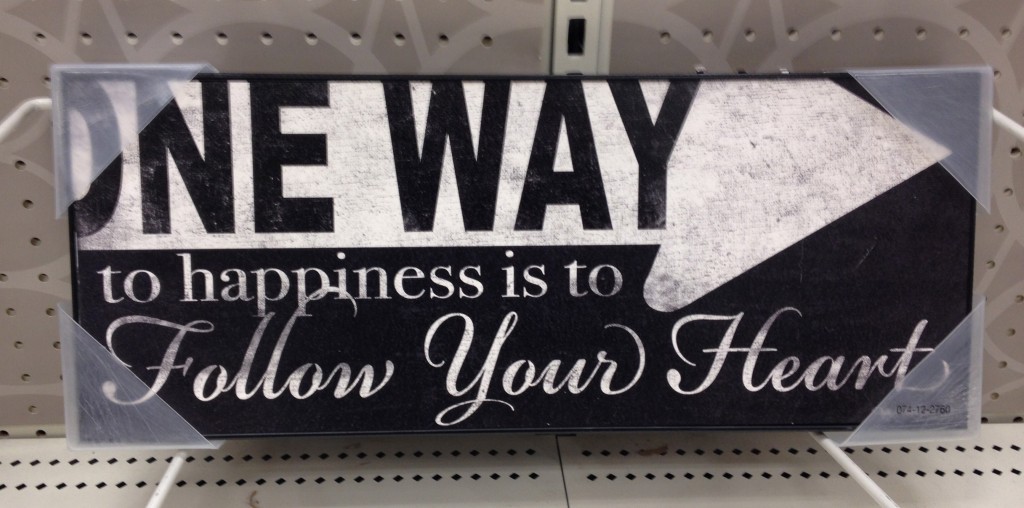 Following your heart can sometimes take you down a pretty bad way. I think of some ex-boyfriends, impulse buys, and third helpings that I'm not proud of. Our hearts aren't entirely reliable or wise sometimes – they can fall in love with the wrong things. Now, admittedly, a sign about "following your heart AND your brain" wouldn't be much of a seller.
After all these high-minded words about happiness and our life purpose, I found this one rather refreshing: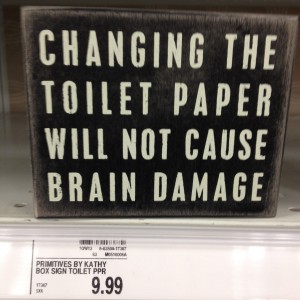 Changing the toilet paper is a little easier to accomplish than, say, happiness. Sometime you need an easy win. Humor never hurt anyone either. And seriously, if you just did what made you happy, would you ever change the toilet paper?
Martin Luther said we can't achieve salvation through our works: what we do can't save us or make us worthy. We're worthy because of God's grace. We're valuable just because God loves us. This is important because, so often, what we're able to do and accomplish doesn't work out, or isn't what we imagined, or leaves us pretty pooped.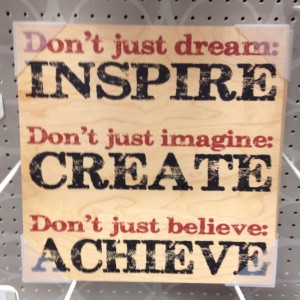 Now, there's nothing wrong with getting stuff done and making our ideas into reality, but having a sign in your house telling you in a confident, assertive font that this is your mission in life seems like a denial of grace to me.
(Isn't this fun?)
Now here is some good word art theology: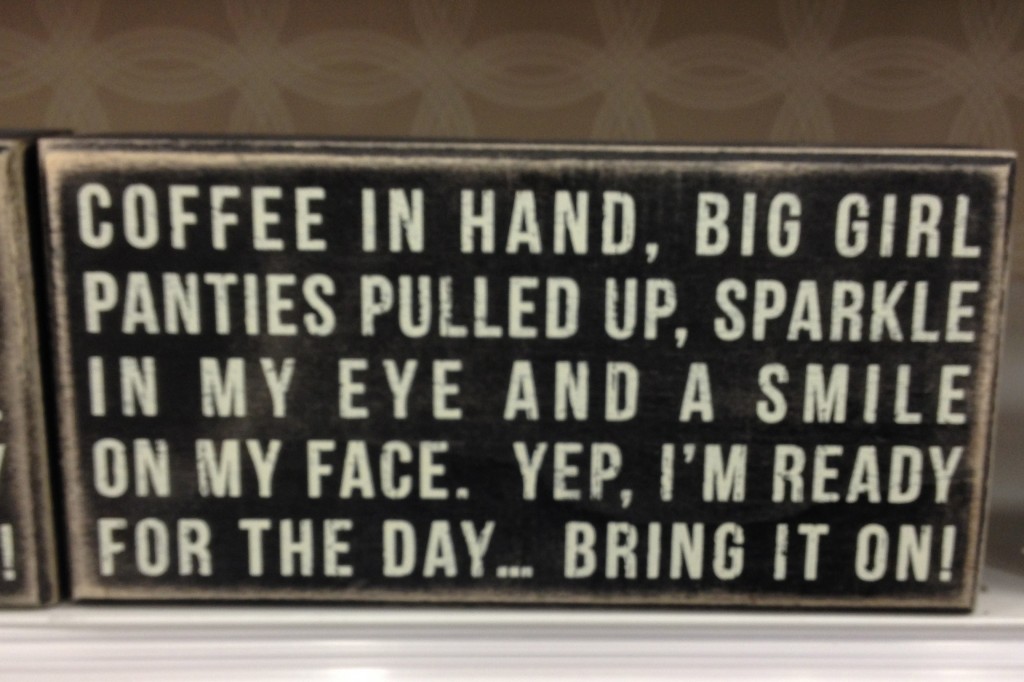 No denial of how hard life can be, but reminding us to have courage, to persevere in the face of hardships, that we can have a "sparkle" doing routine, daily things. The grace is in facing what we've been given, not denying that it can be challenging, but not blaming ourselves or believing all should be "sweet" and happy instead.
But again, sometimes you need easy goals: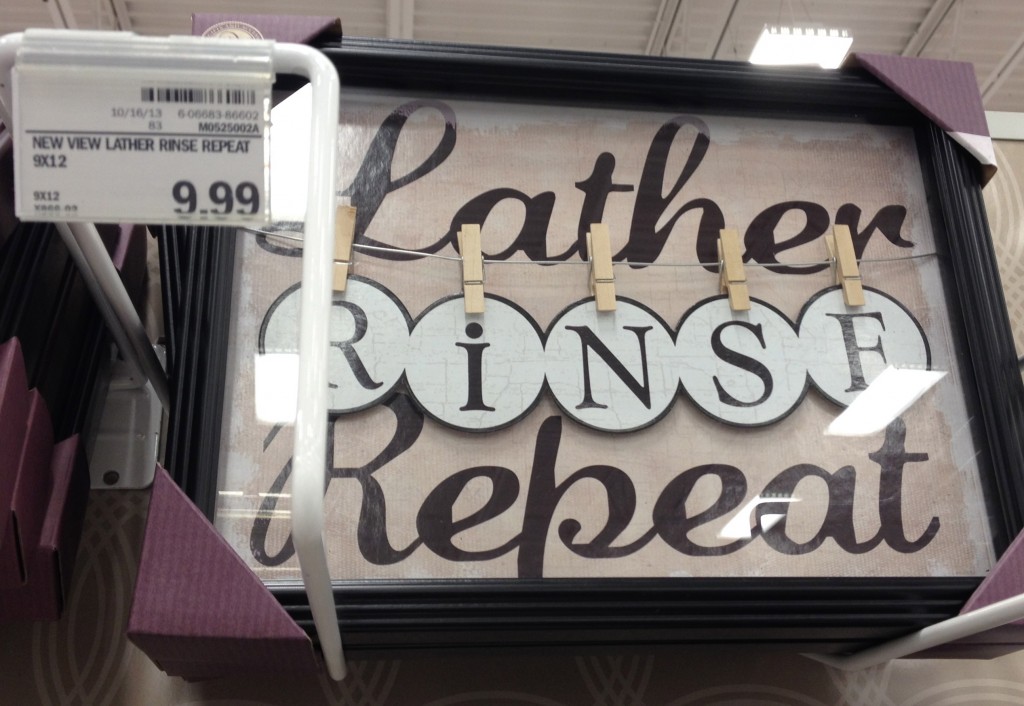 Another bathroom sign, strangely enough! Don't you think there's hope in this one? We can find inspiration in the repetitions of everyday life. (A stretch – but hey.)
And one more sign urging us not to forget the difference between grace and works: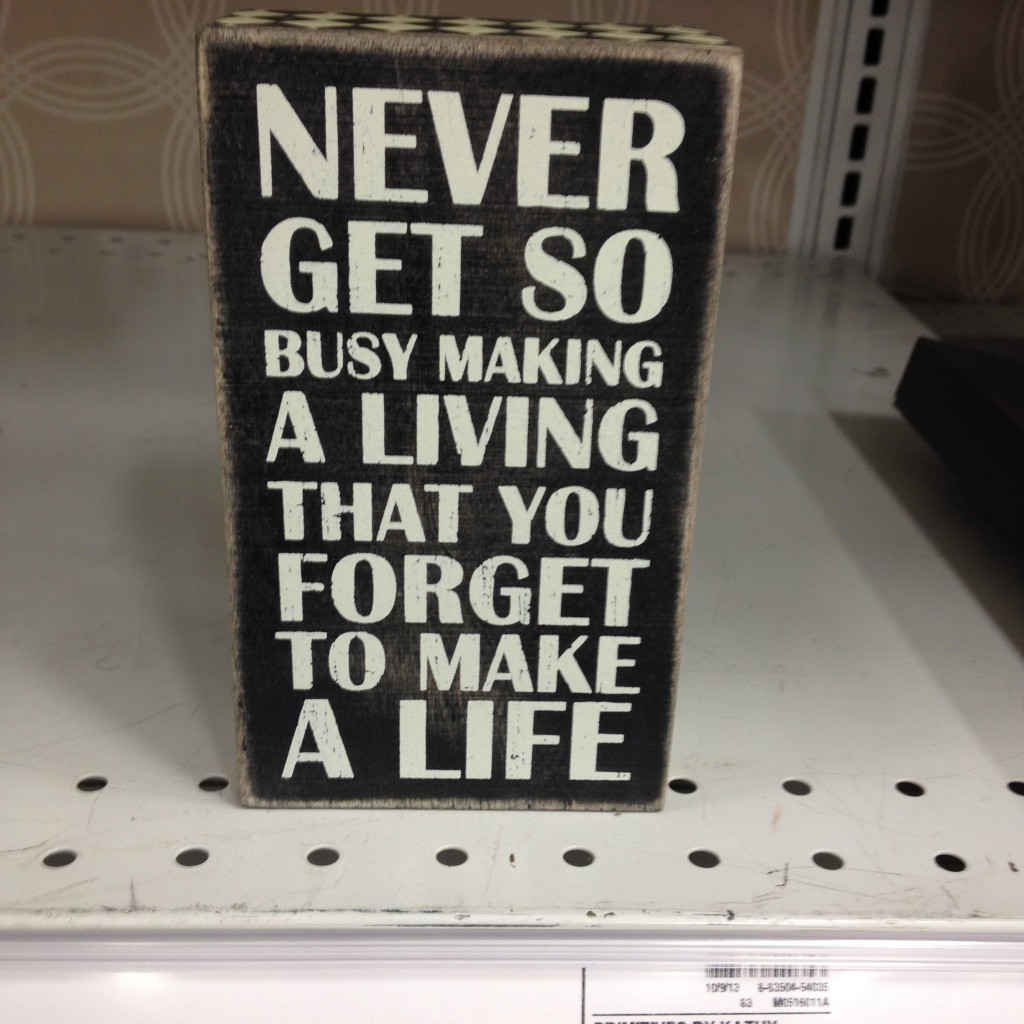 Now, this next sign seems like a good one… "all you need is love," right?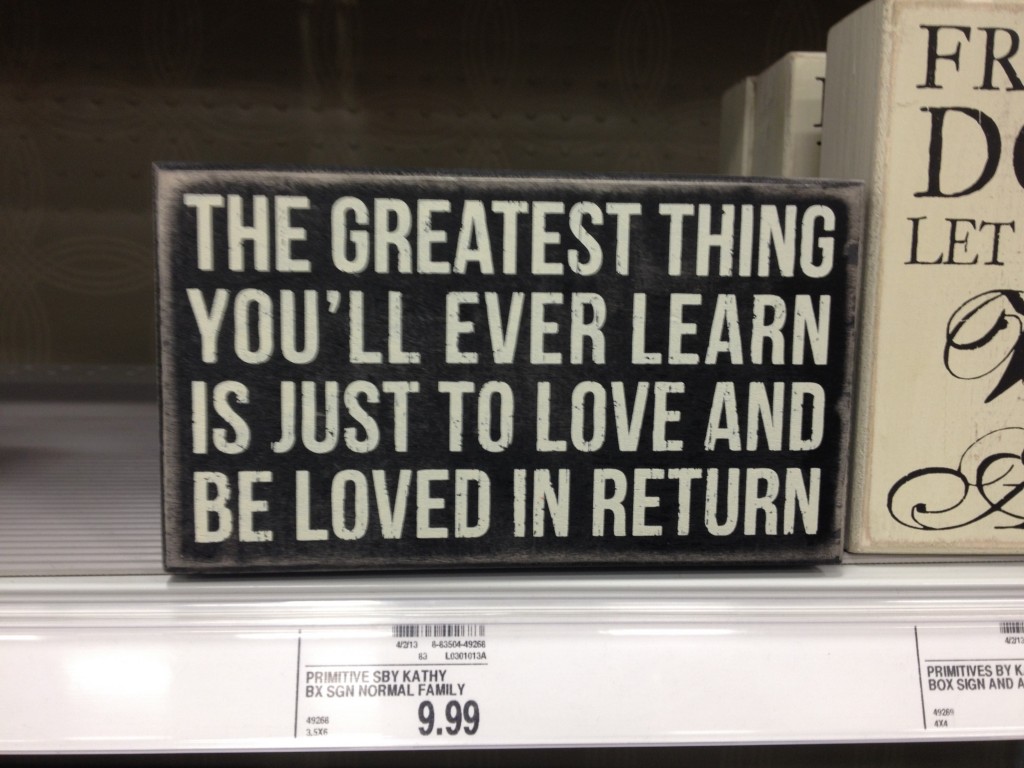 The problem is human beings have this tendency to make love – especially romantic love – into an idol. If only we could find romantic love, everything in life would be great! On the other hand, it's hard to find a better goal in life than loving other people and letting them love you back – or loving God and letting God love you in return.
We all need inspiration to help us get through the day. But does too much rosy, romantic, sweet inspiration do the opposite?  Too much word art falls in this category, if you ask me. How can we both be inspired and not deny that life is a tough slog and often asks things of us that we'd just rather not do? How can we  find courage, joy, and love that's real?
Maybe I'm a no-fun realist, here.
(Full disclosure: I was back at Target recently and just had to buy the "Today is a wonderful day" sign. I may turn it to the wall some days, but I want to remember that even when a day is tough, there is something wonderful about it all – because God made it and God made me.)
Happy New Year! May you face the slog of this life with a sparkle in your eye, find joy in changing the toilet paper, and lead life from your heart, your brain, and your spirit.