My sister-in-law, Laurie, has introduced me to a show called Tiny House Hunting. We watch and gawk at the crazy people and the spaces for sale out there. There's quite a variety: yurts, converted silos, dirt bag construction (ok, it's really called "Earthbag"), houses on wheels, and a few that qualify as what my SIL calls "crap-holes."
There are blogs and websites devoted to tiny houses. Apartment Therapy has the "Small Cool" home contest, for houses or apartments less than 1000 square feet. There's Jay Shafer and his Four Lights Tiny House Company. Even the New York Times has profiled a few tiny apartments.
It's intriguing to think about downsizing to such an extreme. There are economic issues  – could you own a small home outright, mortgage-free? Tempting. Could smaller homes allow people with very low income to own their own place, too? Some municipalities have built tiny house developments for homeless people.
But could Adam and I really live in a 500 square foot cottage? Could I cook in the way I like to in a kitchenette? What about books? What about two cats and a dog? Can you work at home in a job that necessitates various computers and screens and plug all your machinery into the outlets of a 500 sf house safely?
Our home in Bolingbrook is 1700 square feet and while we don't need 3 bedrooms and 2.5 bathrooms, they can be awfully convenient for hosting guests or when one bathroom has a leaking shower drain still waiting to be fixed (not that I know anything about that). With no kids, we're spoiled to each have our own office space, although I often pine for a basement, especially in tornado season. Luckily, we can afford all this for now.
But tiny houses seem to be as "cool" as they are economical. Spiritual, even. Simple, spare, comprehendible, affordable, beautiful: a small, simple, jewel-box of a home seems to appeal to something in the psyche of many North Americans.
I'm smitten, myself. They can be beautiful – crafted down to the last detail. This one reminds me of the small houses traditional in my mom's native Norway. (Scandinavian chic does seem to be "in" now.) Of course, if this house were in Norway it would be a summer cabin ("hytte") and have no plumbing.
Ironic, since most likely many of our still-recent ancestors lived in something similar (especially the no plumbing part) but with a lot more children (maybe even livestock).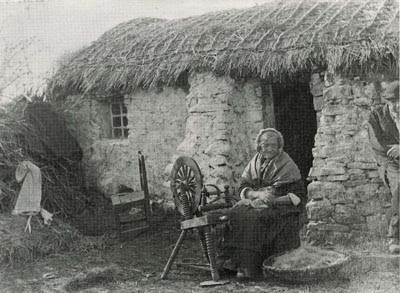 Thankfully, tiny houses are now equipped with heat, AC, kitchens, plumbing, and wifi. And storage! We have a lot more possessions now than the Irish granny pictured above.
In fact, tiny home designers seem to make a game of how to stow away as much as possible in hidden or clever places. A few years ago, an article in The New York Times profiled a 420 square-foot apartment where everything could be hidden away in specially designed closets, including dinner seating for twelve and a queen-size bed, making the home look like some kind of sensory deprivation box when folded up.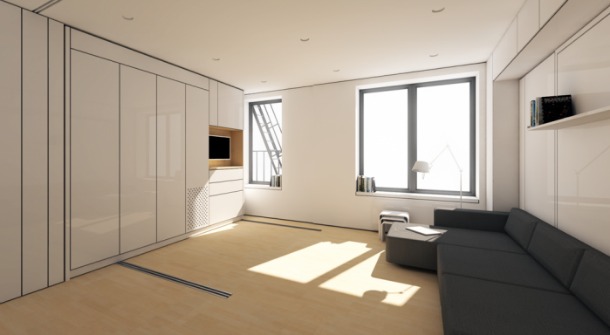 On the other side of the design spectrum, Four Lights Tiny House Company offers plans for darling wood cottages that run 65-874 square feet, with bathroom, kitchenette, and loft bedroom, allowing all stuff of life to be contained in one small space. However, founder Jay Shafer had to abandon his own tiny house when he and his wife had their first child.
There are many others. Little House on a Trailer. Katrina Cottages from Loews. weeHouse.
Frankly, my sister-in-law and I are dreaming of saving up for a couple tiny houses to set on a plot of land somewhere or other as a get-away family place. (Luckily, the husbands are amenable.)
Tiny houses are a lot more plausible as vacation homes, it seems to me. Most of us need too much stuff and space to live a North American life, for better or worse. (I know, I know – Marie Kondo would scold me.)
Modern life is complicated. It's split into fragments, requires too many forms and pieces of paper, complex gear for every hobby and a tool for every situation or kitchen task, demands long work hours, and is hemmed in with friends who haven't met, user IDs and passwords, and choices choices choices, from breakfast cereal to bathroom tile to quality television. A small house gives us the illusion of simplicity and comprehensibility, of an unfragmented life.
The sad thing is that, while I can choose my favorites, use the photos as wallpaper, and even dream of a tiny vacation home, I know I could never live in one, at least not as a married woman. Not as someone who lives in the Midwest, where outdoor living is only possible four months of the year (if that). Not as someone who enjoys hosting guests, displaying art and photographs, cooking, baking, and pets.
I have a fragmented life, with stuff, pets, and a husband who owns a lot of computer equipment. We don't need a 1700 foot house, but it sure does make life easier.