Some folks complain about the shoddy construction of IKEA furniture. But wait. Shoddy construction has a long history in American society. I ask you: doesn't IKEA seem like a natural heir to an American legend: The Sears Catalog?
Exhibit 1: Sears dresser (circa 1930? 1940?)
Made of cheap wood topped with veneer. Styled to look traditional, so if you squint, you might mistake it for an antique. Ordered by my great-grandparents decades ago. Finally fell apart in 2012. Not bad, eh? Adam and his Dad took it apart and put it out on the curb earlier this month.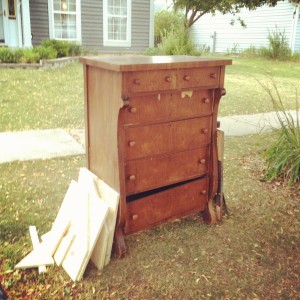 Exhibit 2: IKEA dresser ("Hemnes") (2012)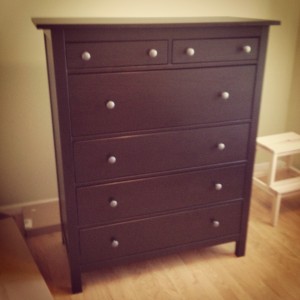 Styled to look traditional – so if you squint, you might mistake it for an antique. Cheap construction (although at least this model doesn't have a veneer – it's actually solid pine). Maybe, like it's predecessor, it'll last us 70 years?  I'll keep you posted. (Adam and his Dad spent about three hours putting the durn thing together.)
So, I hesitate to slam IKEA because it reminds me of the Sears Catalog: a part of America, a supplier of affordable home goods, and provider of household basics, beauty, and fun.
What else do the Sears Catalog and IKEA share? Great catalogs, a culture of retail overload, and, well, a sort of magical feel about them. When the Sears Catalog or Christmas Wish Book came in the mail, the whole family would gather round. Heck, I remember, as late as about 1984, a neighbor family got all excited about getting their Wish Book in the mail. And have you ever walked into an IKEA? It's huge but full of droll and diminutive little objects, charming and comfy furniture you're encouraged to poke and sit on, and petite apartment models (400 square feet!) styled with colorful, trendy, cozy, Scandinavian flair.
One thing I couldn't figure out online: was Sears furniture was flat-packed and DIY-assembly the way IKEA furniture  so famously is? (This way, everything can fit snug as can be in a shipping container.) But one way Sears has IKEA beat? Sears pretty much flat-packed a whole HOUSE, so everything fit snug on a train car. Everything you needed arrived by train and you picked it up at the railway station and hauled it, by horse and wagon in the earliest days, back to your home site. Here's one of the first models: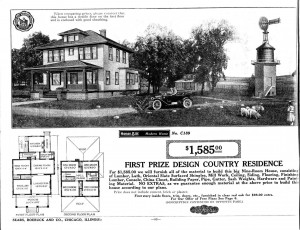 But wait…. this spring IKEA introduced a pre-fab house! "The Aktiv, Swedish for active, is being marketed as 'your own personal Euro designer flat… only where you want it!'" Whoa.  Check it out. Available from Ideabox.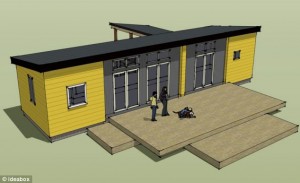 There's really nothing new under the sun.