I've spent the last year in formation to become a Benedictine oblate, at Holy Wisdom Monastery in Middleton, Wisconsin. An oblate is someone who promises to follow a monastic rule in their life in the world, while staying in relationship with a particular monastery. Oblates don't follow a rule – in this case the Rule of Benedict – to the same degree a monk or sister would, especially since so much of it addresses life in community (serving meals, answering the door, how to keep an infirmary), but adapt it to their own circumstances.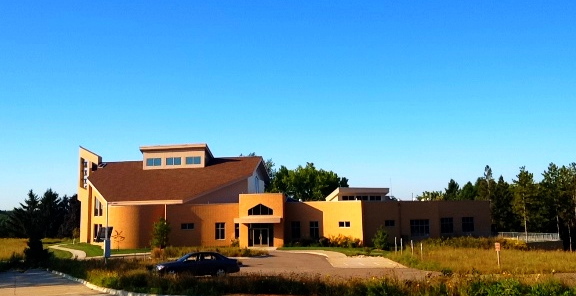 The values expressed are still so powerful, 1500 years later – moderation, community responsibility, sense of place, the practice of silence, welcoming the stranger, the holiness of work. The opening words of the prologue say "Listen with the ear of your heart!" and "we hope to introduce nothing harsh or burdensome" and at the end, calls it: "this minimum Rule which we have written for beginners."
A little history: I first visited Holy Wisdom Monastery back in 1998, when it was called St. Benedict Center. In the early 1990s, it changed its charter to welcome both Roman Catholic and other Christian women as sisters. As a result of its inclusiveness and a commitment to local ecology, it has grown substantially. Although only adding one fully professed sister (a Presbyterian), they've financed and built a large new "green" monastery building, added almost 200 oblates, grown to a huge (200? 250?) average attendance at their "Sunday Assembly" worship service, and started various kinds of internship, weekends, and residency programs for young single women who want to try monastic life for a temporary basis.
Holy Wisdom is full of the glory of God – it's very simple and grounded, despite its recent dramatic history. I've thought about becoming an oblate for a long time – at one point even thought about joining the community, as I think many single women (as I was at that time) who pass through its doors do! It's not a perfect place – no where is, but it took me so long to become an oblate because I thought there might be a monastery out there that was matched all my (too-lofty) Benedictine ideals. But the Holy Spirit kept nudging me back here.
Holy Wisdom feeds my prayer life, gives me a sense of accountability for leading a Christian life, and gathers a community of people who love the Rule of Benedict as much as I do. (Acres of gorgeous restored prairie are wonderful, too!)

Adam took this picture of me in the oratory, or smaller chapel. This is where the community (sisters + staff + visitors or local oblates) prays the daily office and practices centering prayer, a form of meditation.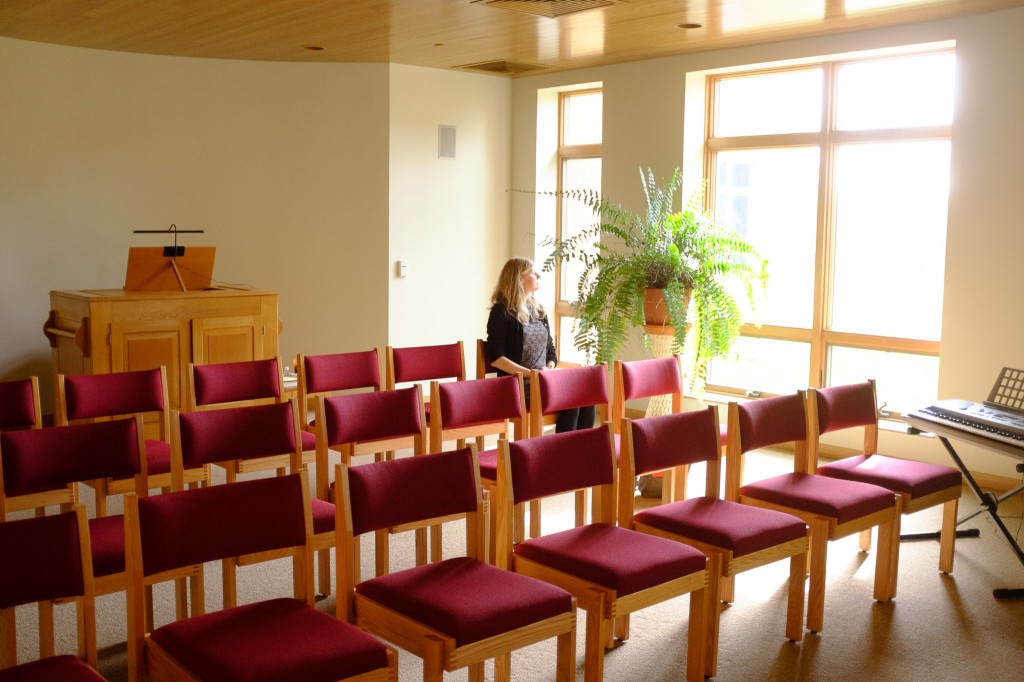 Last Saturday night, there were 12 of us who joined the oblate community. We'd spent 6 weekends over the last year at the monastery, getting to know one another, the monastery, the oblate community, and the sisters, and studying various Christian spiritual values and practices. Sometimes it was frustrating for me, since I was kind of hoping to study the actual Rule more as part of the year – but that gave me some grist to work on some humility, an important Benedictine value. (Sigh.)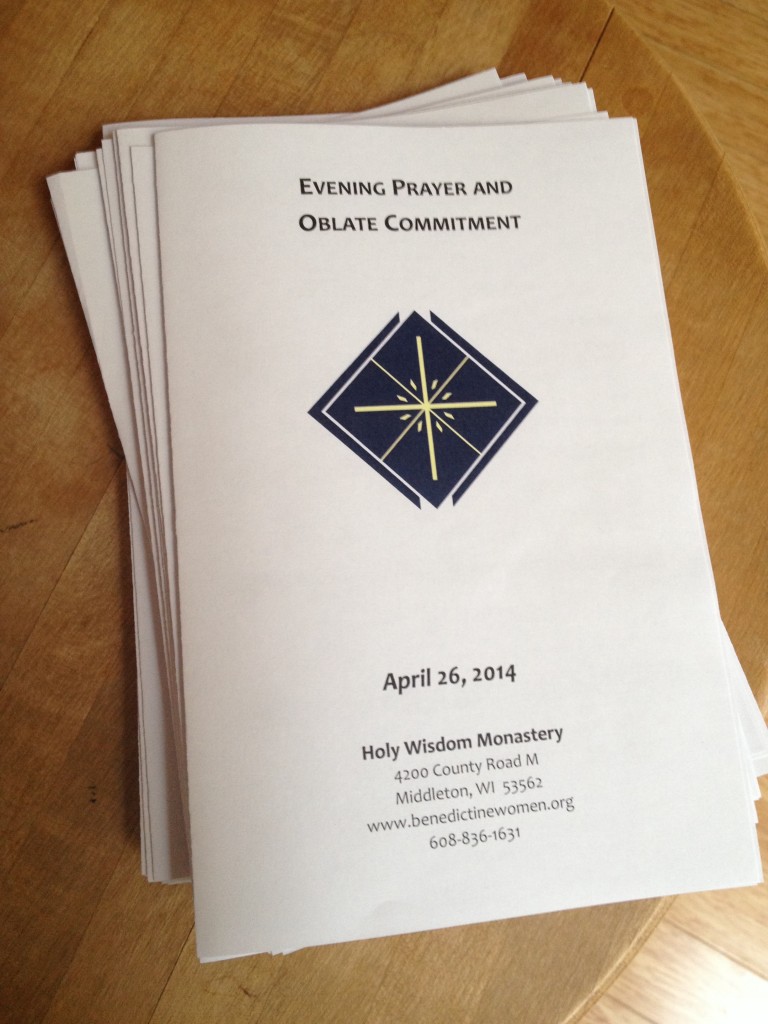 Here we are, the "Class of 2014"! From Wisconsin, Illinois, Indiana, and Michigan: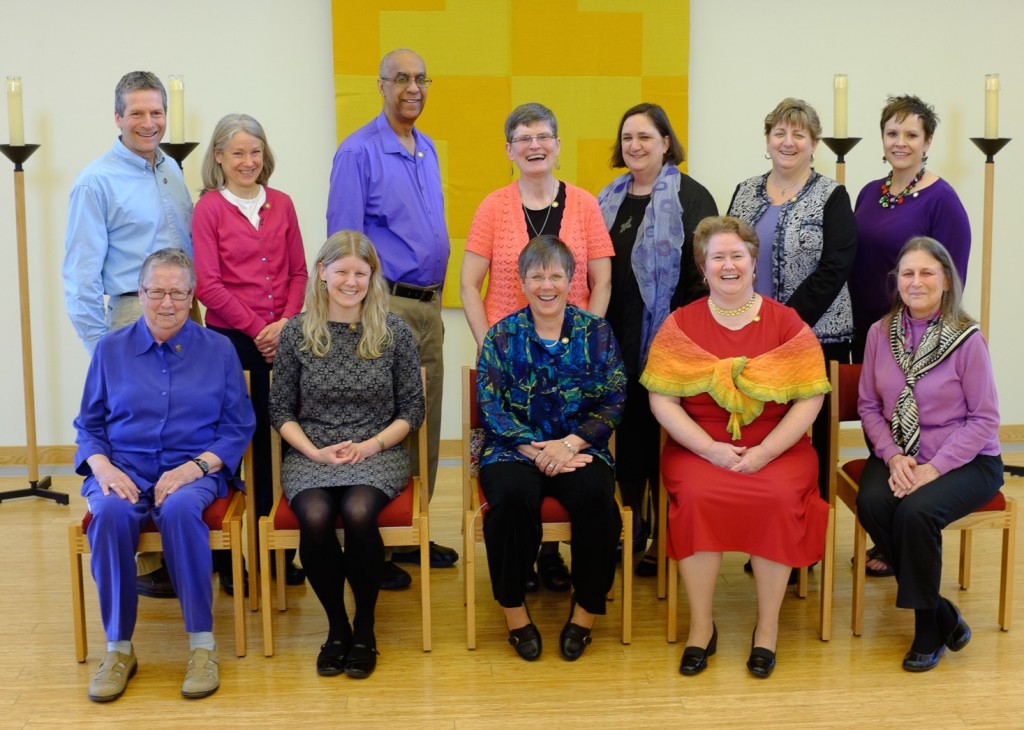 These are the sisters, who I caught at an unguarded moment (my apologies, sisters!) right before the service started. Here are Sr. Joanne, Sr. Lynne, and Sr. Mary David, the heart of the community: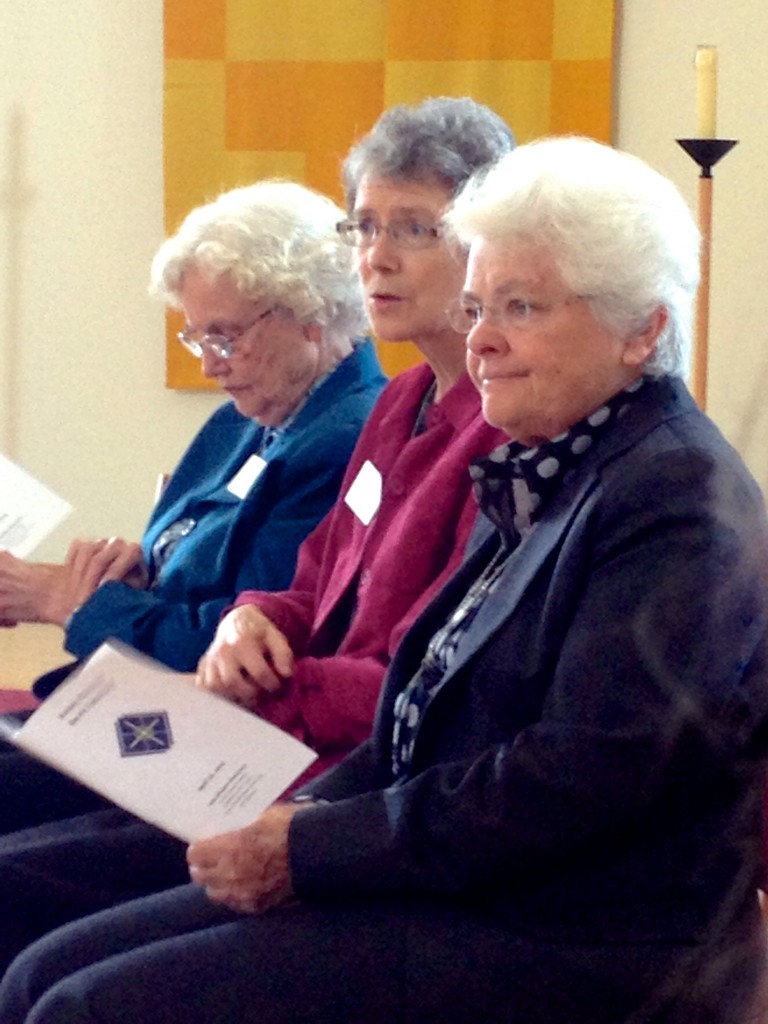 Here I am, signing the promise to follow the Rule, on the altar, which is what the Rule instructs for professed monks and nuns, too: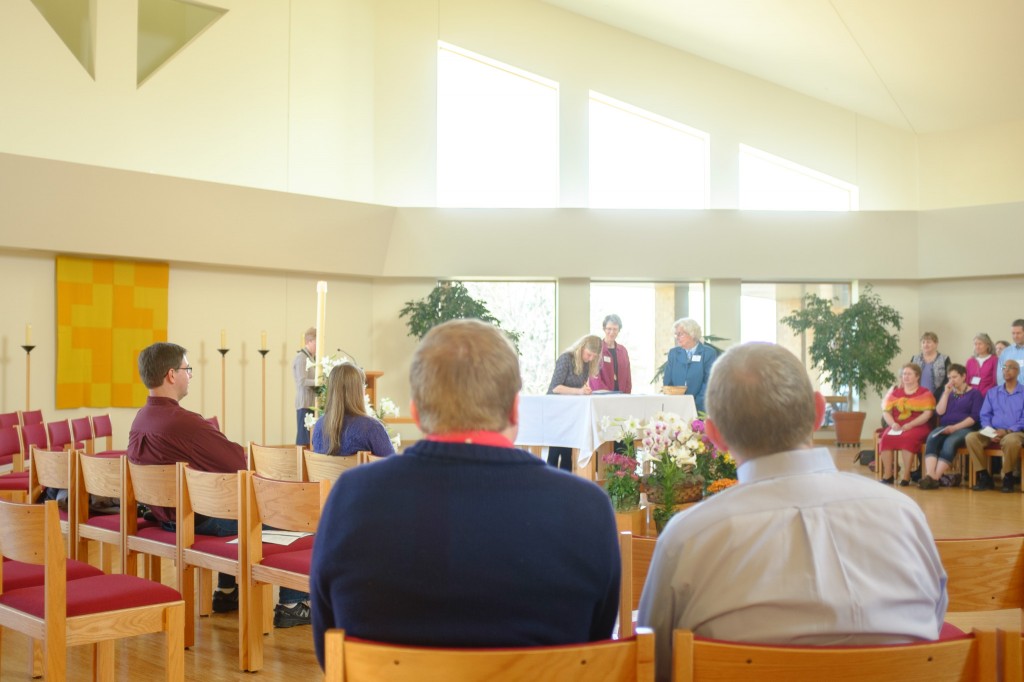 "When she is to be received
she promises before all in the oratory…
Of this promise of hers let her draw up a document
in the name of the Saints whose relics are there
and of the Abbess who is present.
Let her write this document with her own hand;
or if she is illiterate, let another write it at her request,
and let the novice put her mark to it.
Then let her place it with her own hand upon the altar…"
Translated from the Latin by Leonard J. Doyle OblSB, of Saint John's Abbey. (Even-numbered chapters are adapted for women's communities.)
Below, oblates and guests (mostly oblates) greet one another after the service. As you can see, it's mostly women, but there are quite a few men. And while many are over 50, more and more oblates are younger, which is good to see.

With Adam and my good friend Monica, after the service.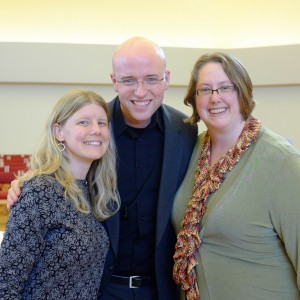 Funny note  – Adam and had come from attending the consecration of our friend, Matt Gunter, as the new Episcopal Bishop of Fond du Lac that morning. I wore the same dress, with a collar shirt underneath. I thought I was being so efficient and cute at the same time! But as it turns out… I also was wearing the dress backwards. All. Day. I don't think anyone noticed, but it seemed like a detail worthy of the whole humility theme I mentioned earlier. You can see how high the neck is, here – in the back, my hair covers the lower neckline, so it's hard to notice. But ah, yes.
A close up of the pin we receive: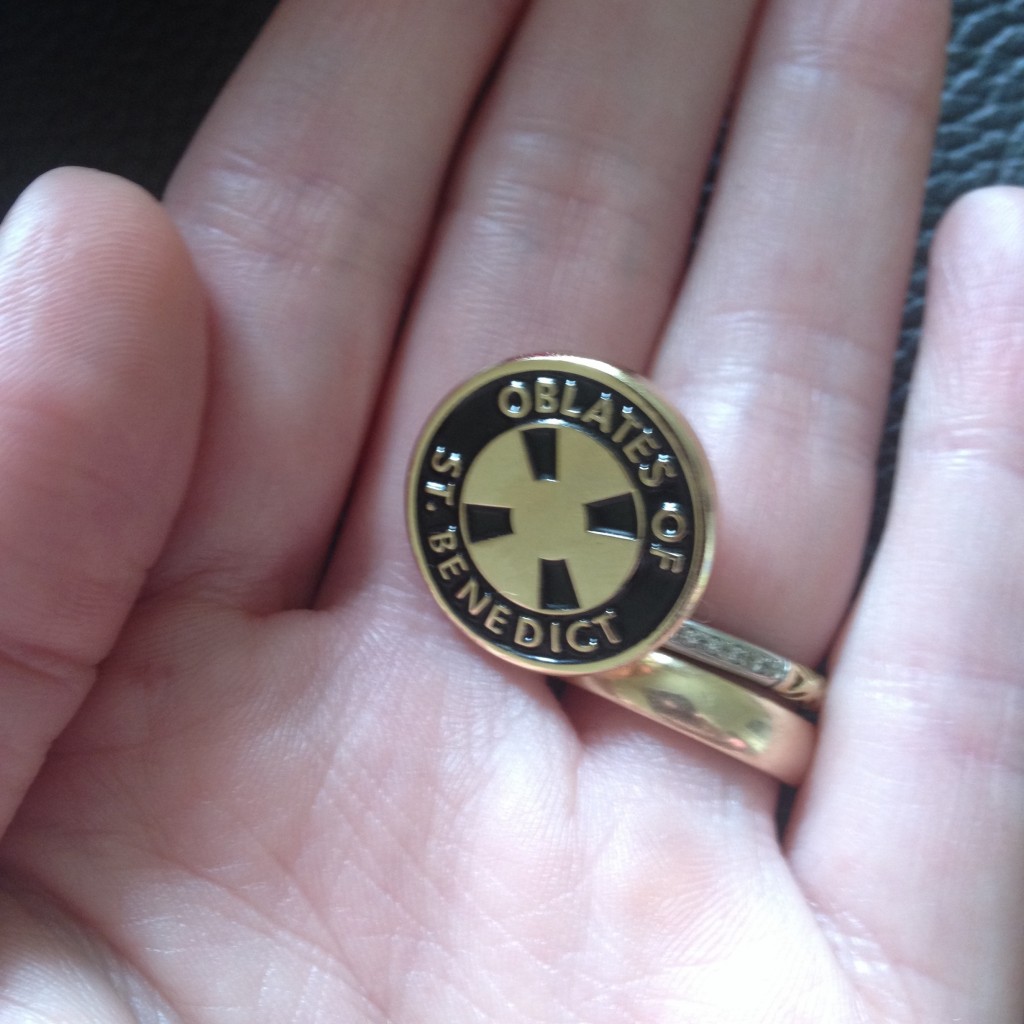 I hadn't expected to feel different, but I do somehow. Even more than I did when I was ordained a priest – that was so overwhelming that it was hard to feel anything else! But becoming an oblate affirms publicly values I've felt drawn to for most of my life – spiritual community, contemplative prayer, monastic life, the Rule of Benedict – and means choosing to enter more deeply into those things with fellow travelers. I'm grateful.
And this will enrich my sabbatical time, too. I haven't talked much about that on this blog, but in mid-August, I'll go on a 15 week sabbatical which centers around Benedictine spirituality and history. More on that soon…
If you want to go visit Holy Wisdom yourself, check out information about personal retreats here.