Every home has a miscellany of elegant, useful objects that make life better. I don't mean big stuff, like a hot water heater, refrigerator, or sectional sofa. I'm talking about little things – often inexpensive – that enhance our everyday lives because of their simple but elegant practicality or beauty. St. Benedict says, "regard all utensils and goods of the monastery as if they were the sacred vessels of the altar." That idea that holiness should be found in all objects – both in how we treat them and in how they can help us find transcendence in everyday life – makes for a worthwhile spiritual discipline in a consumer culture like ours.
We have an awful lot of "utensils and goods" in our homes these days, many disposable. I'm skeptical that de-cluttering actually improves our quality of life rather than just filling up landfills and forcing us to repurchase this or that down the line (I wrote about this here).  But perhaps some of them become more special or sacred than others for us? Someone once said that you shouldn't keep anything in your home that isn't either beautiful or useful; I would go that far – life isn't that simple, it seems to me – but I do find the objects in our house I'm most delighted by are both beautiful and useful, in some way. 
I haven't posted many photos of the inside of my house on this blog. I love our subdivision cookie-cutter of a house, but posting interior photos is a bit more exposure of my private life than I'm ready for. But, here you can have a micro-view into my house. And I don't feel like I should clean the bathrooms first.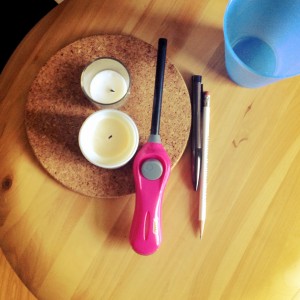 See this candlelighter? It makes me very happy. You push the button and it lights. Most candle lighters require pushing two, very awkward, buttons at once. Not this one. Efficient. Elegant. Pink!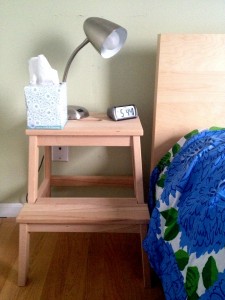 Doesn't $50 seem like a lot for a nightstand? These are the nightstands in our guest room – they're from IKEA (right down the street) and they're supposed to be step stools but they're perfect for setting a cup, a pair of glasses, or a cell phone for the night. An elegant, ingenious solution at $15 each.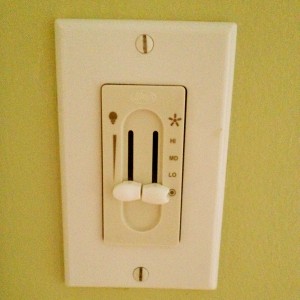 When we moved in, the light switches in the bedrooms weren't connected to the ceiling fans. When our neighbor, an electrician, came to rewire them for us, he suggested these new switches. They're. Awesome. Although in the dark it's hard to see or remember which is which is the fan and which is the light.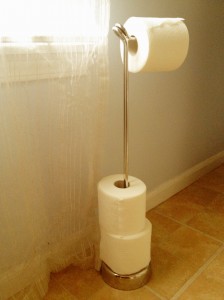 There's no good place in our bathroom for a toilet paper spindle. This is a fantastic alternative. Simple. Clean lines. Dare I say, elegant? And practical: twist the top upward and slide as many as four rolls down the pole as back-up and you feel like you've put money in the bank.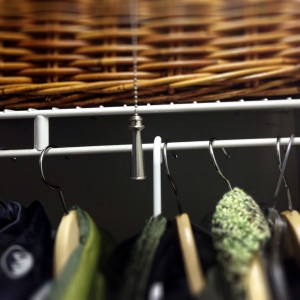 You can't really see anything in our coat closet without the light on. But when we moved in, the pullchain for the light was a little slip of a thing up near the ceiling with nothing to grab onto. Misery ensued. At long last, we finally got around to replacing the pullchain and added this nicely grippable handle and the world was a different place. You think I'm joking.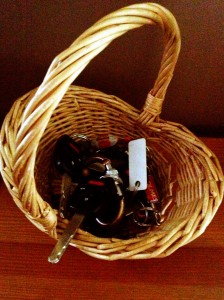 Ah, the Key Basket. Everyone needs a place by the door to drop their keys. This is how one can keep from losing keys; at least if one remembers to, in fact, drop them in the basket.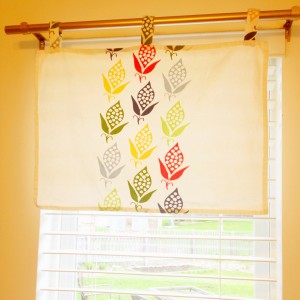 I fell for these dish towels at IKEA a few years ago. I fell hard. So hard that my church secretary put me out of my misery and made them into kitchen curtains for me. (Curtains don't get as dirty as dish towels. And they match the color scheme so nicely!) She has since moved to Traverse City, but I am forever in her debt.
You can buy all kinds of goofy things to keep your pens and pencils in, but why? When you can have the simple elegance of a steel can? It's tough, shiny, and has those nice horizontal lines.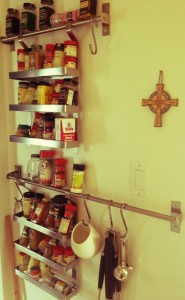 See this? This is not elegant or ingenious. This is rickey, unbalanced, and dangerous. Not everything from IKEA is wondrous. Don't try this at home. Replacement forthcoming.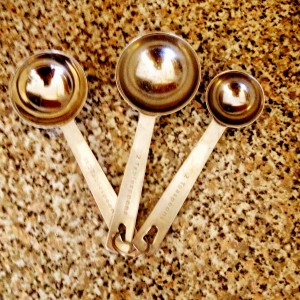 These were a gift from my Aunt Jennifer – they're measuring spoons for 2 teaspoons, 1.5 tablespoons, and 2 tablespoons. I use them all the time – they're terrific. Go get yourself a set.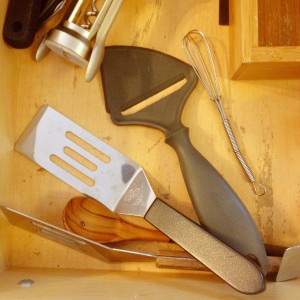 These three utensils are small but mighty, and help out in ways that make me very happy. First, the mini spatula was a gift from my mother-in-law – perfect for brownies, flipping grilled cheese sandwiches, or moving around little slices of whatever. Then a plastic cheese plane – clean, uniform slices of cheese and much better hand-feel than metal (another winner from IKEA). Lastly, the mini-whisk was a booby prize in a family scavenger hunt, but amazing for small batches of vinaigrette, blending spices, and other tiny jobs. (A fork is still better for beating an egg, though.) Kudos to cousins Meagan and Hannah Haverkamp for that one.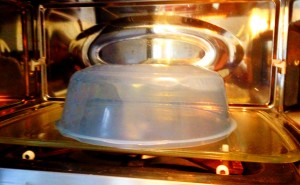 Another IKEA find, on recommendation from our friends, Dave and Carly: this is a microwave plate cover. Keeps all those bubbles and spatters from covering the walls of the microwave AND keeps heat and steam close to the food to help it heat faster. Ingenious. Elegant. Life changing. One of Adam's favorites.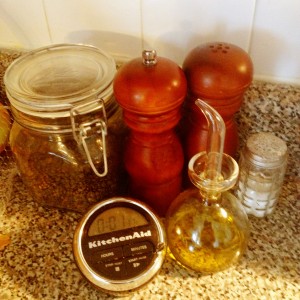 This was a nice little grouping, but I want to point out the glass oil cruet. I found it on Amazon. Our last cruet had a rubber stopper that always smelled rancid. This was a beautiful little number with a glass stopper, made by a company that also makes glass for science labs. You have to hold your finger against the stopper when you pour so it doesn't slip out, but it's a beautifully crafted, inexpensive item that sprinkles oil without dripping and holds only a small amount, so it stays fresh. And it gets squeaky clean in the dishwasher. (I know I sound like an advertisement. I may as well go all the way – if you want one, here it is.)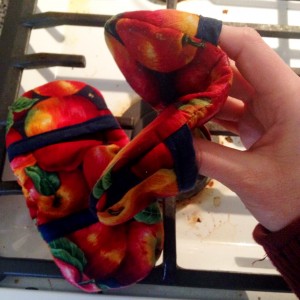 These were a Christmas present from one of our spunky, dear elderly members, who passed away this spring. When I unwrapped them a couple years ago, I had no idea what they were. Well, Adam figured it out: they're potholders for your fingers.  I said to him, "Well, that seems like a dumb idea. I'm sure I'll never use them." Dear Reader: I Use. Them. Constantly. I don't even like our gigantic mitt-style potholders anymore. Adam teases me about this mercilessly. They're convenient, maneuverable, and I've only burned myself like, twice. And they have apples on them! Thank you, Rhudell! I'll never forget you, and not just because of the potholders.
OK, just one more thing… because I've been obsessed with this recipe the last couple months. This is the easiest, most cozy and tasty bread, ever. Easy, elegant, practical, little, transcendent, and completely delicious. Quick to mix. No knead. 30 minutes to rise. 45 minutes to bake. Your life will never be the same. (Unless you're gluten-free, in which case, I will make sure my next life-changing recipe post doesn't include wheat.)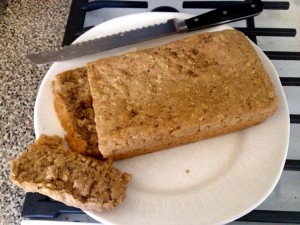 It's not light and airy, but it's GREAT: nutty, chewy, and very satisfying with butter or other toppings. On the down side, quality drops markedly after about the first 48 hours, but if you have more than one person in your house, that shouldn't be a problem, because it will be GONE.
Easy Little Bread
1 1/4 cups warm water (105-115F, or hot – but not burning – to your hand)
2 teaspoons active dry yeast (one packet)
1 tablespoon honey (or maple syrup)
1 cup unbleached all-purpose flour
1 cup whole wheat flour
1 cup rolled oats (not instant)
1 1/2 teaspoons salt
2 tablespoons butter, melted, for brushing
In a medium bowl, sprinkle the yeast onto the warm water and stir until the yeast dissolves. Stir in the honey or syrup and set aside until the yeast blooms and swells a bit, 5 – 10 minutes.
In the meantime, mix the flours, oats, and salt in a large bowl. Add the wet mixture to the dry and stir very well. [It will seem goopy.]
Brush a 8-cup loaf pan generously with some of the melted butter. Turn the dough into the tin, cover with a clean, slightly damp cloth, and set in a warm place for 30 minutes, to rise.
Preheat the oven to 350F, with a rack in the middle. When ready, bake the bread for 35-40 minutes, until golden and pulling away from the sides of the pan. You can finish the bread under the broiler to give the top a bit deeper color. Remove from oven, and turn the bread out of the pan quickly. Let it cool on a rack so it doesn't steam in the pan. Serve warm, slathered with butter.
Adapted from Gran's Kitchen: Recipes from the Notebooks of Dulcie May Booker.
Discovered on Heidi Swanson's website.