Beautiful "golden" sugar snap peas with purple flowers! They'll grow to be six feet tall – whew! Not sure the peas we'll harvest this summer will finally cover the cost of my sturdy "pea fence". But maybe next year. Sheesh.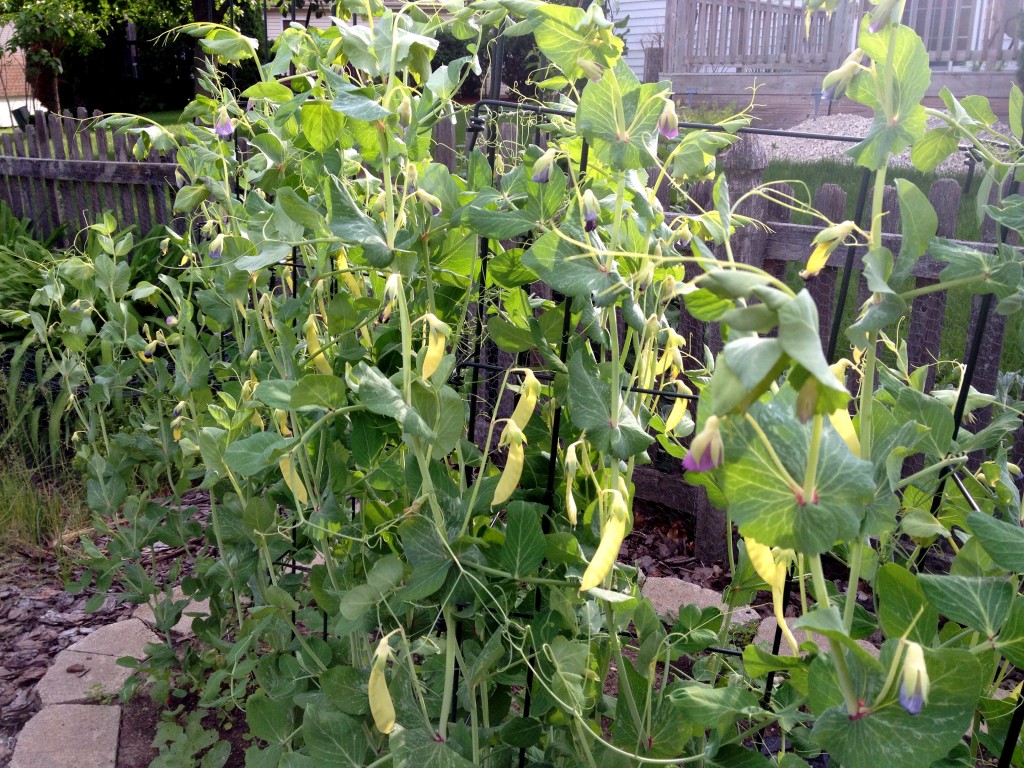 Lovely little radishes.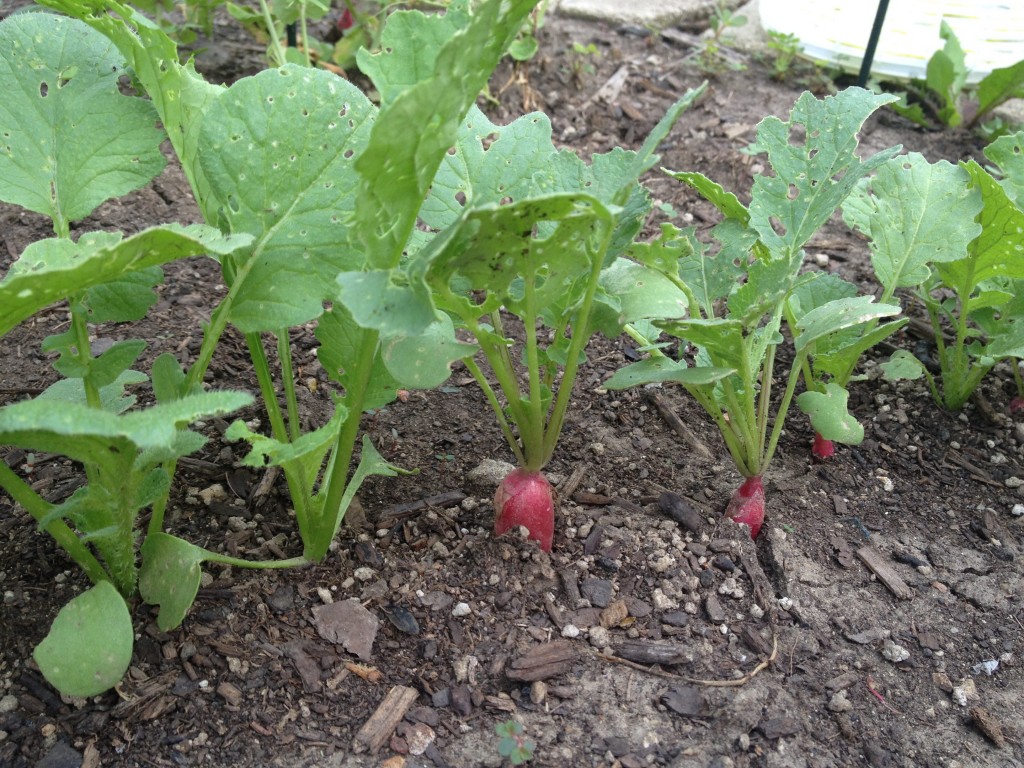 Delicata Squash seedlings peeking through their black plastic blanket! (Absorbs heat, which squash needs and keeps the weeds down, although admittedly, it makes the garden look a bit junky.)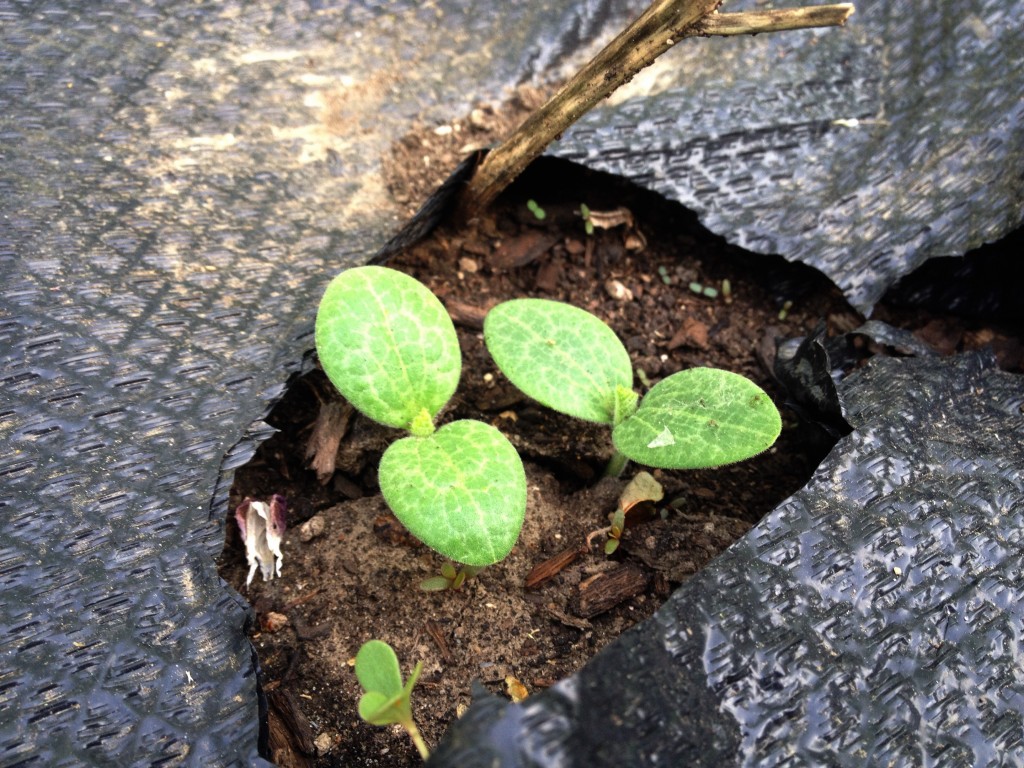 Raddichio (bitter red salad green) planted in between the squash. We'll harvest it before the squash gets big enough to overwhelm them. Or at least, that's what I'm hoping.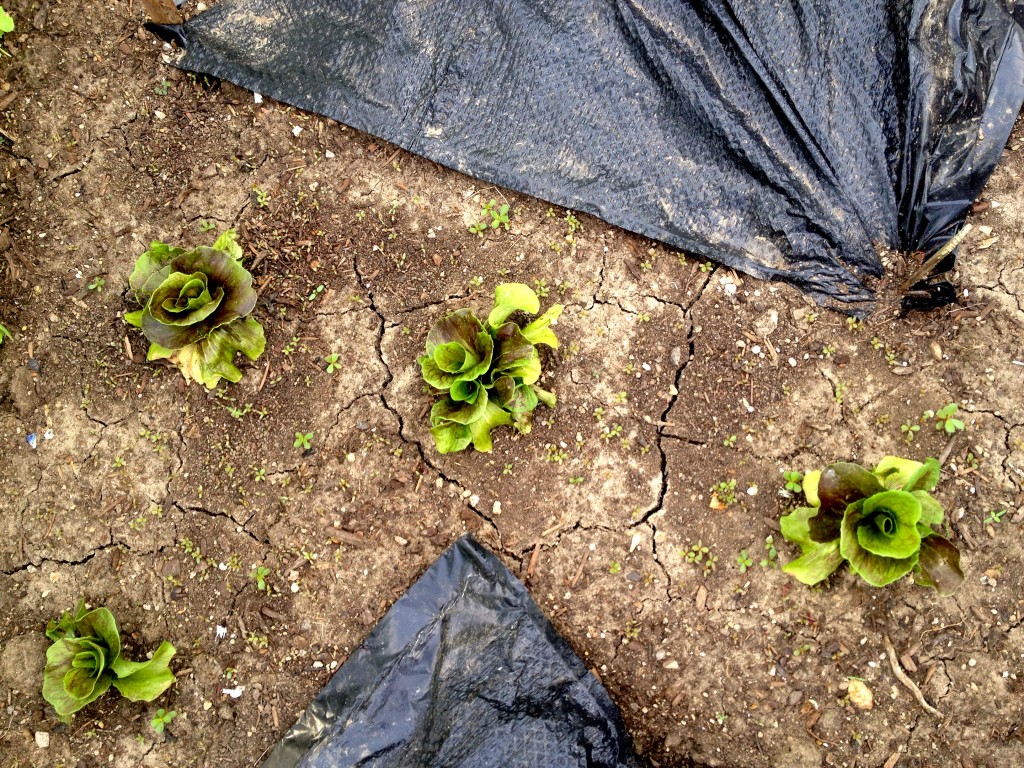 I just like this pairing… a metal star I bought at the grocery store (!) years ago (makes me think of my beloved Texas cousins – Hi Lisa and Christy!) with some almost maroon-pink petunias I found this year.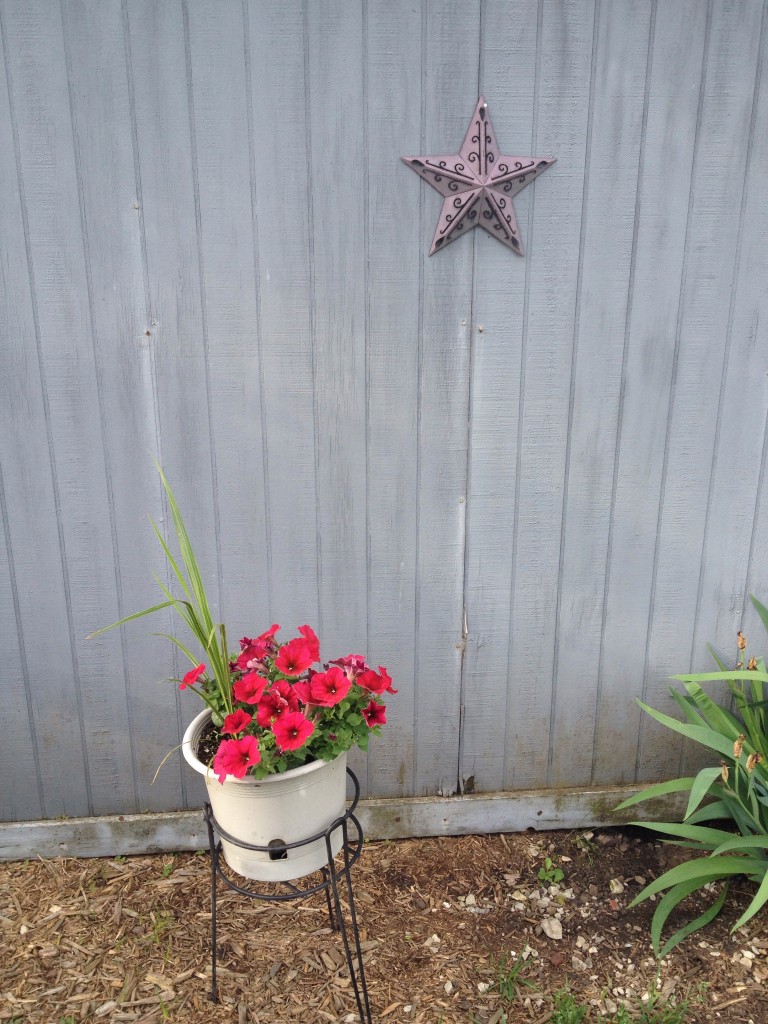 Patio planter with rain gauge.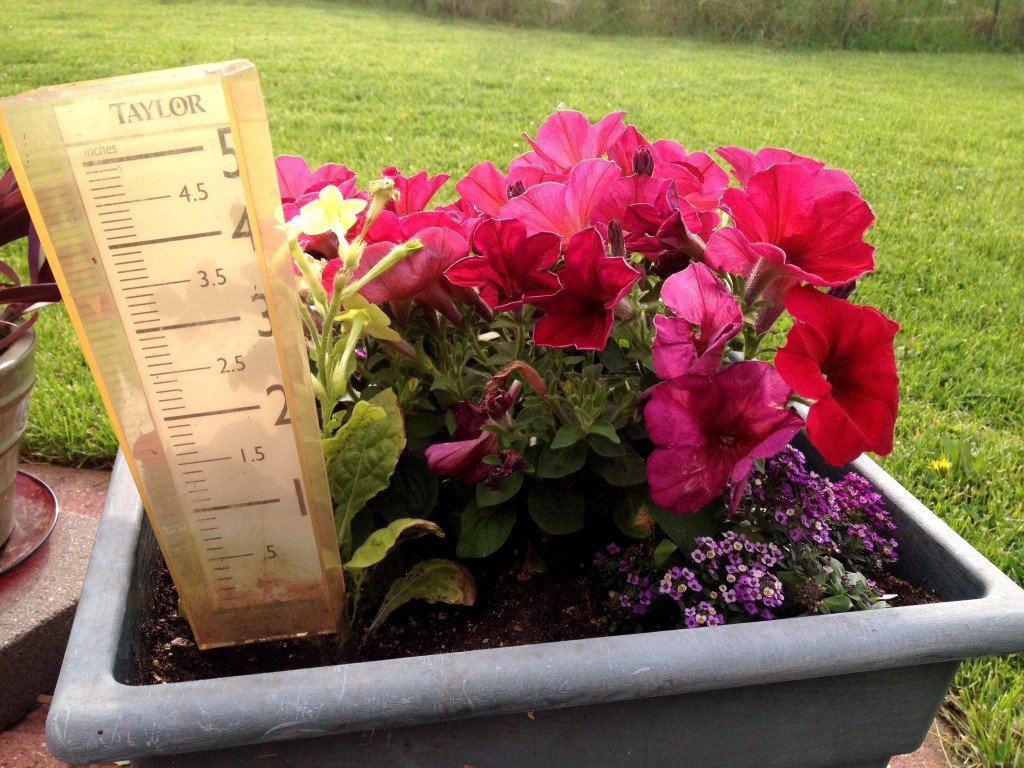 The Three Tenors – my container garden with rosemary, cayenne peppers, and eggplant – all heat lovers. (Not sure we're really going to eat those peppers but they sure will be pretty.)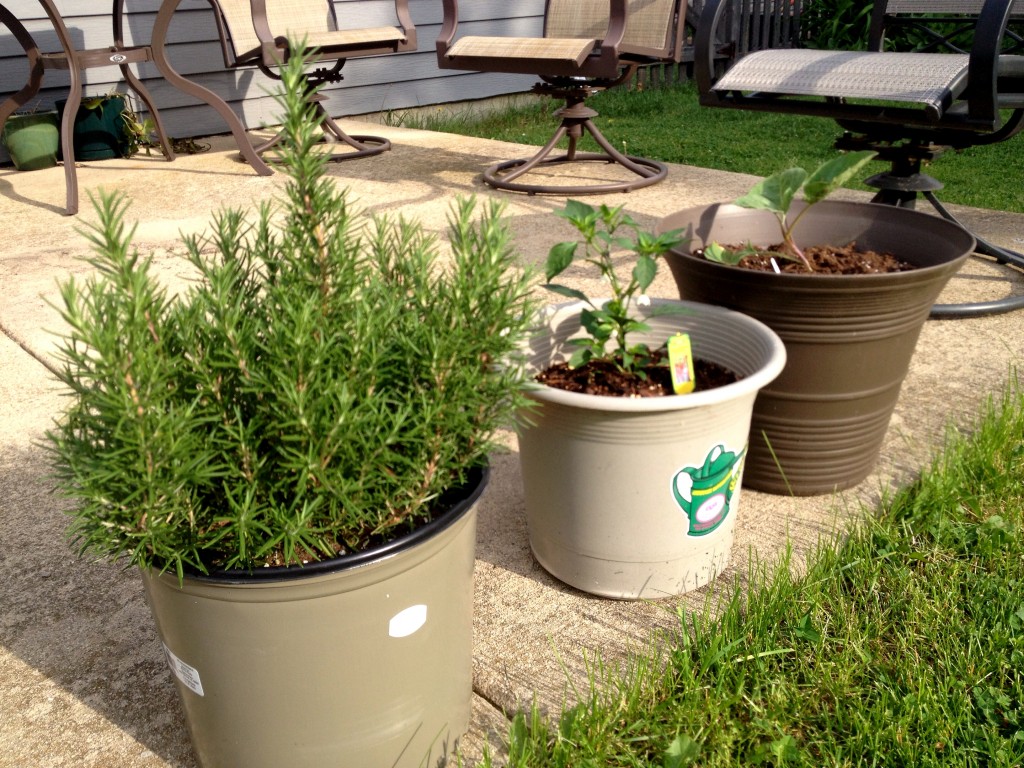 "Keepin' it real" (as The Pioneer Woman would say). My dirty tools and wheelbarrow. Still sitting by the fence – I should probably put them in the shed before the rainstorms today, huh?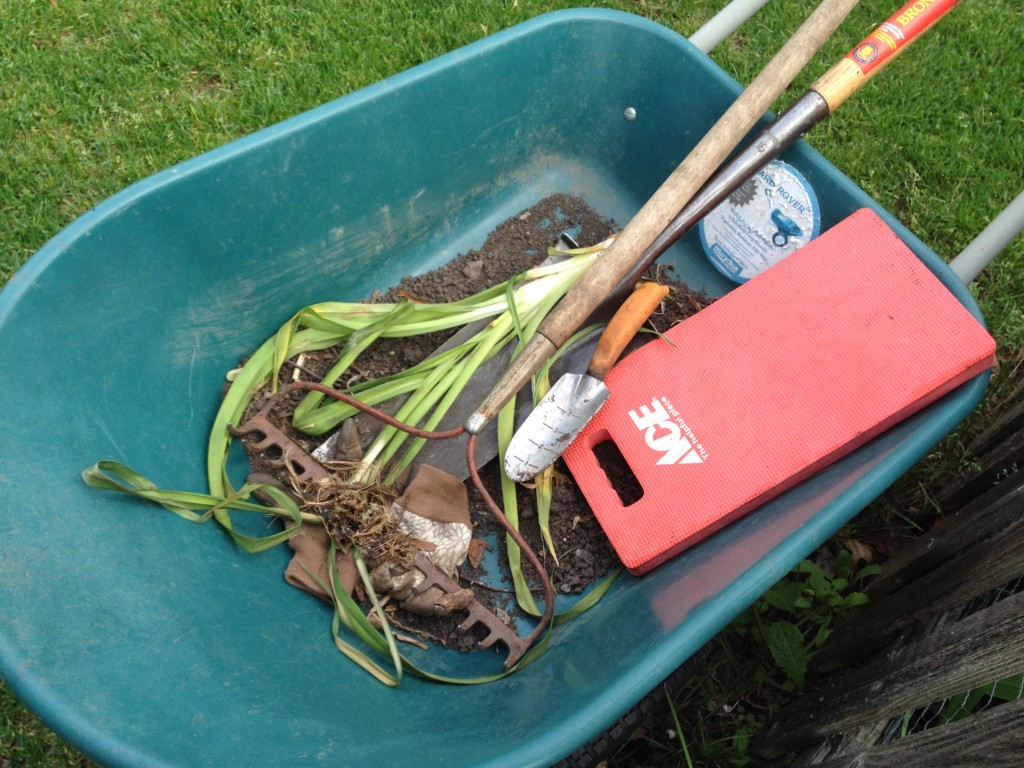 My tomato bed! Every year, I plant a bed of tomatoes, green peppers, basil, one jalapeno pepper, and lots of marigolds (to keep tomato-loving parasitic worms away). This year there's also an adolescent rhubarb plant sharing the bed. (Don't ask.)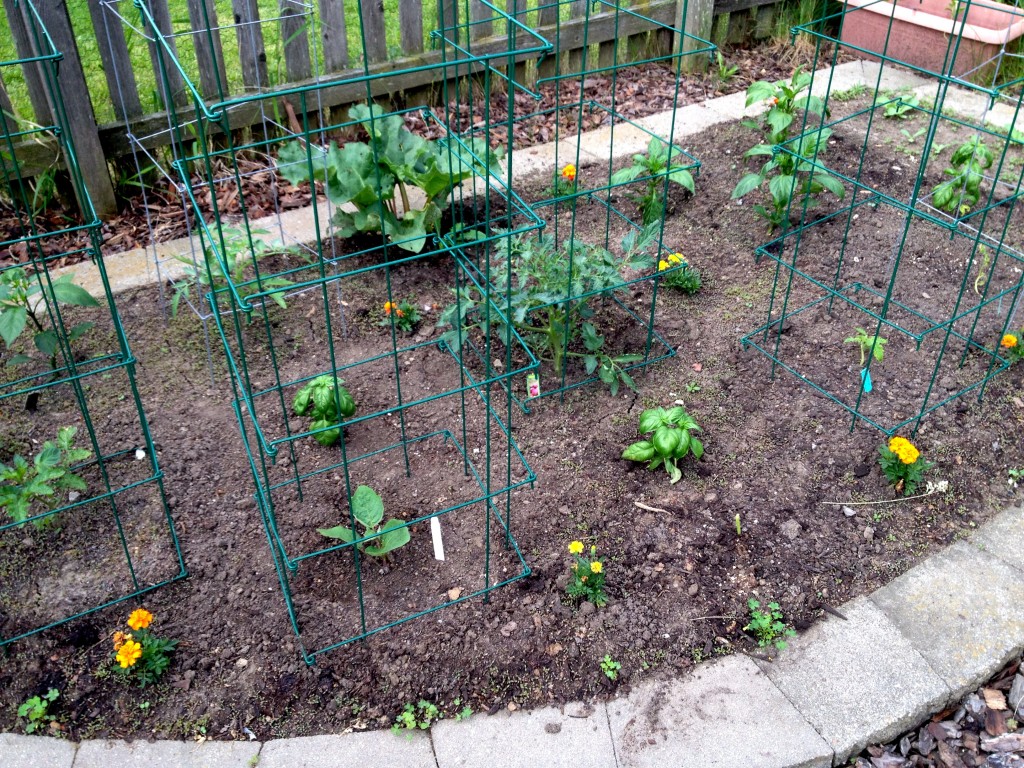 The bane of my existence… two of my beds are infested with millions (millions?) of purslane micro seedlings. And they don't stay micro for long. I keep trying to wipe them away or scrape the dirt with a trowel but still, more come. Ugh. Purslane is edible but that wasn't really my plan for the garden this year.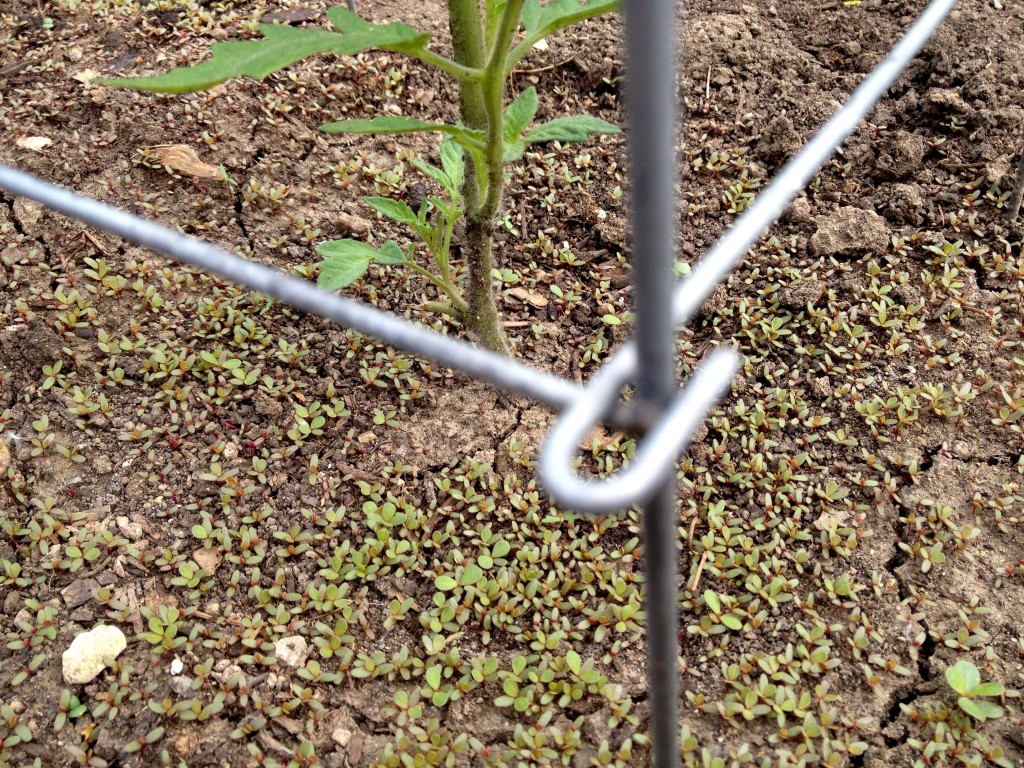 Two tomatillo plants! With another eggplant and some Thai basil. All newbies for me – we'll see how they turn out. I can probably take the wire off the right-hand tomatillo there – I wasn't sure if the rabbits would be attracted to them or not.
Thai basil close-up – so pretty.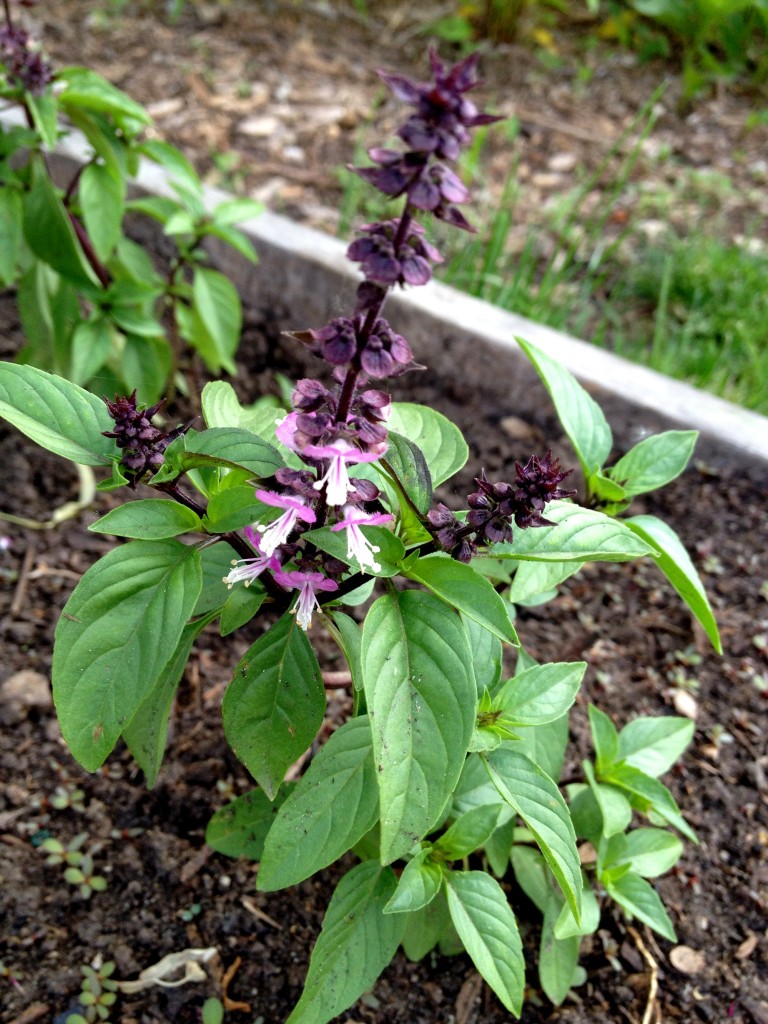 Sunflower seedlings – rabbits looove these. They're securely fenced in with chicken wire. (Note more purslane micro seedlings here, too. Argh.) These will be four foot sunflowers – I also have ten footers, which at this point look exactly the same as the shorter version.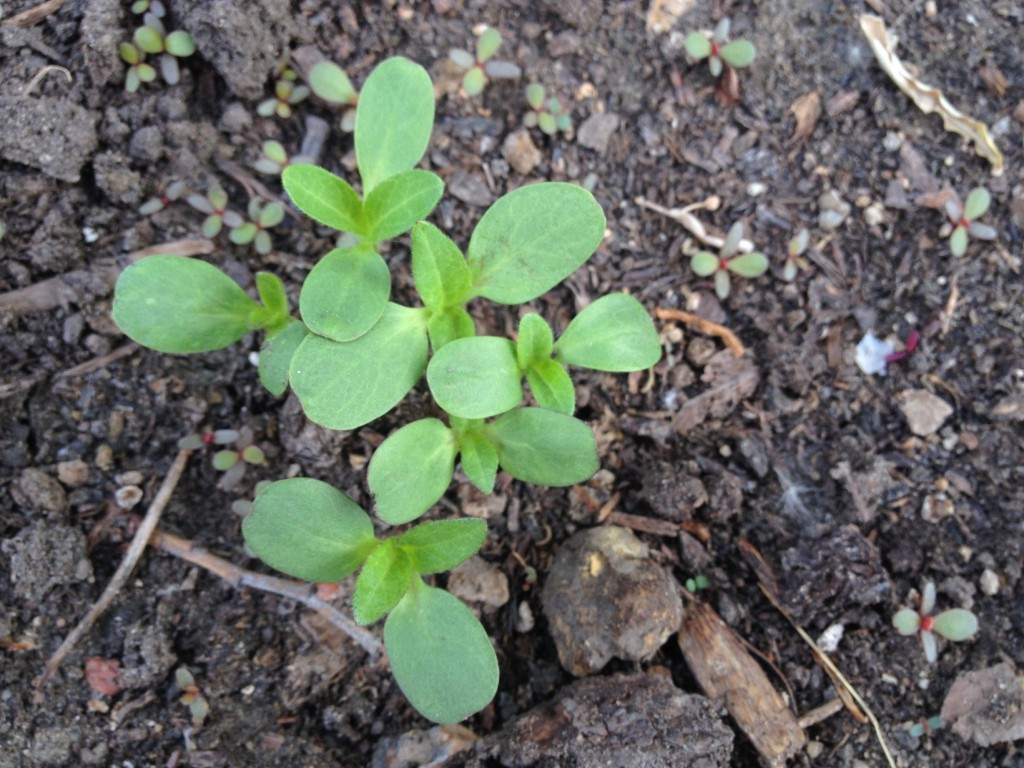 My overgrown mint patch. I knew it would take over but I planted it anyway. I love mint. I yank it out by the handful once or twice a year to subdue its dominant personality. The air conditioner and stone pavers help keep it contained, although every year it finds a way to grow up into our house siding. (Yes, I know I need to get that six flat of alyssum in the ground soon – thanks.)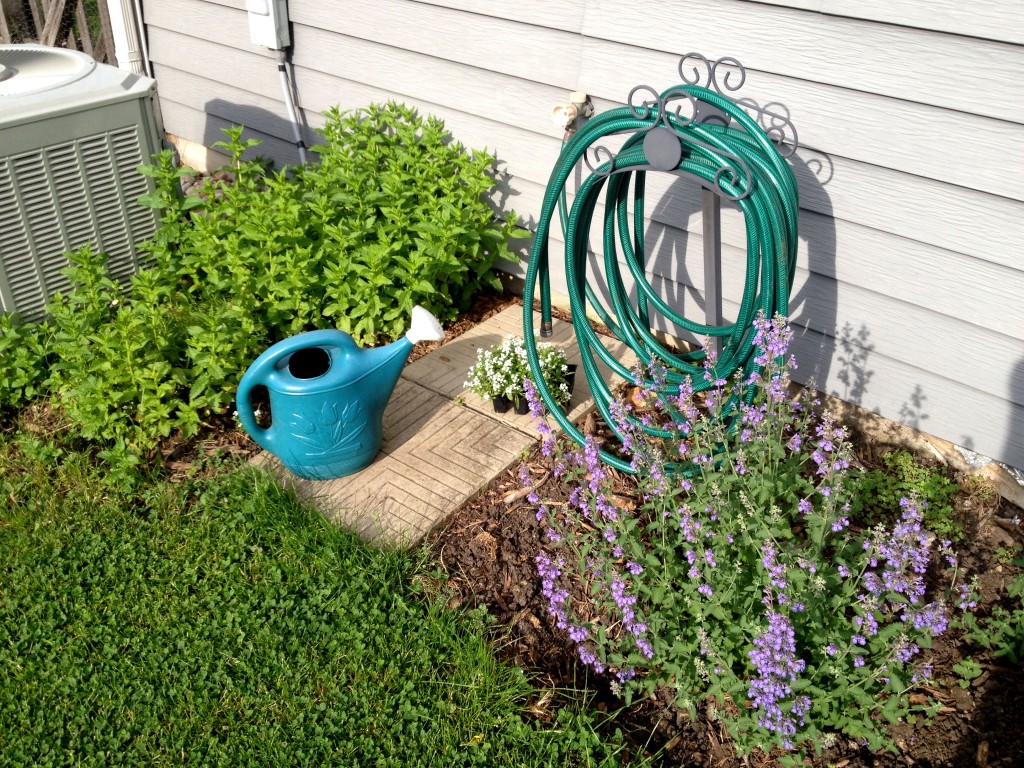 Below is my next invasive species romance: oregano is related to mint… (foreboding soundtrack, here). It was free with my CSA share last week (vegetable farm subscription), and who can resist something free? You know, the GOOD thing about invasive species is that you don't have to weed them, because they're the weed. And they fill in a corner quite nicely. I like self-sufficient plants, honestly. So, I'm sticking this oregano in a little corner and hoping the fence, the sturdy perennial salvia there, and the lawn will keep it somewhat in order.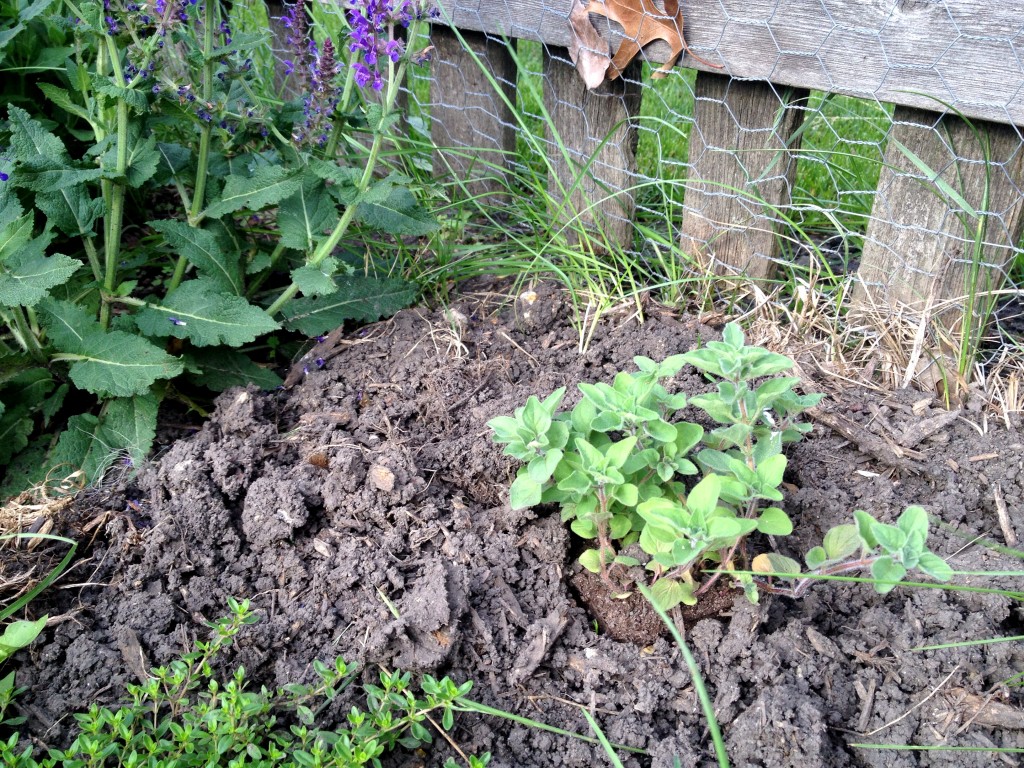 And one other invasive species that I've always loved – lemon balm. So good in a glass of ice water and also makes a good hot tea. But it's a beast. There's also sage and chives, there – Old Reliables. A baby thyme. And a pot with marjoram, an oregano relative that's kind of a wimp, surprisingly. It's sort of floppy looking and wan right now – like the kid at camp who just doesn't want to play any of the games (I can say that, because I was that kid).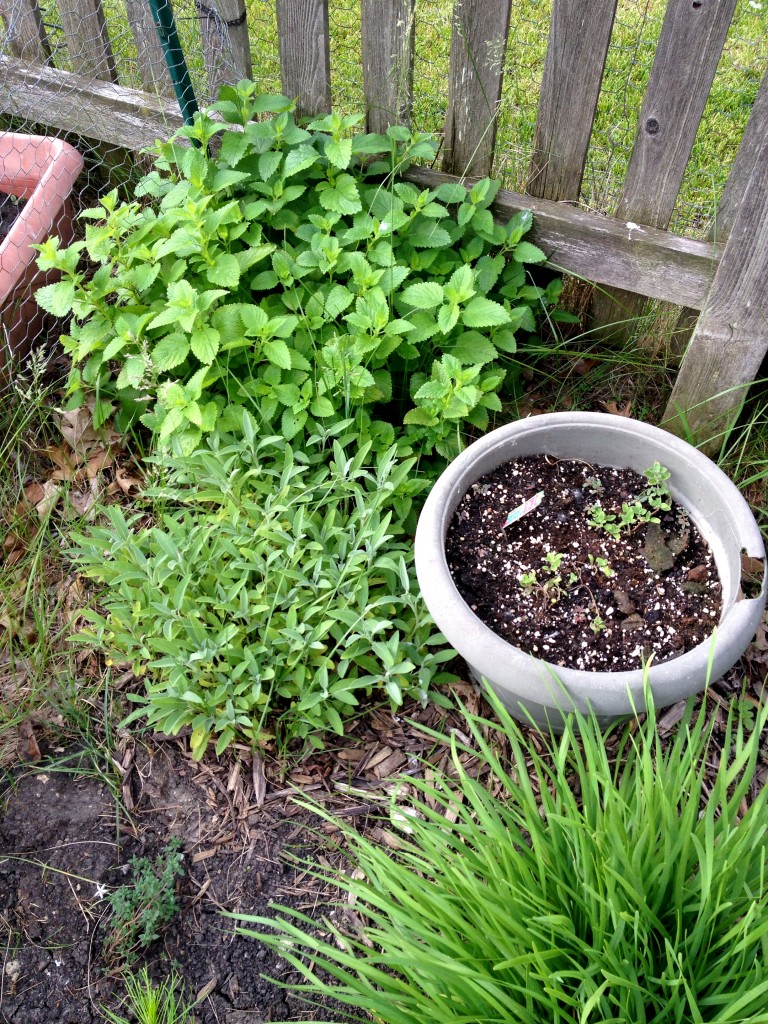 I have a confession to make. I covet something that belongs to my neighbor: their light blue iris. Isn't it pretty? I may have to ask them for a couple slips. Or when they're on vacation… (wait, did I say that out loud?).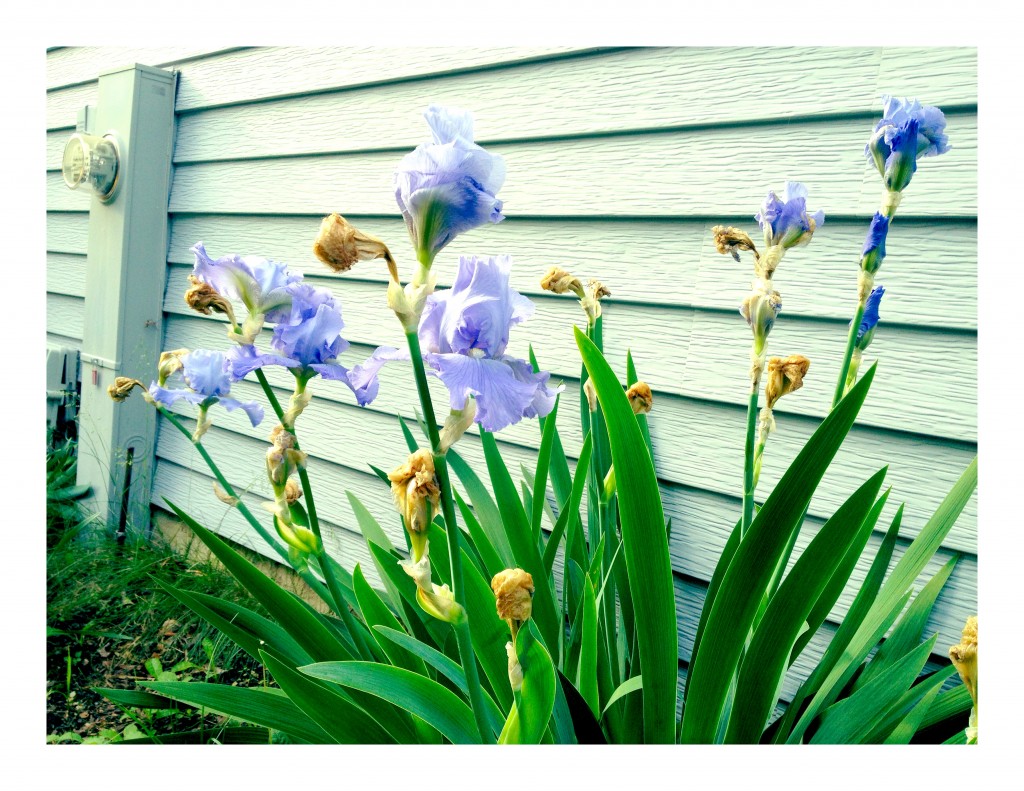 The Guerilla Gardener in her hat.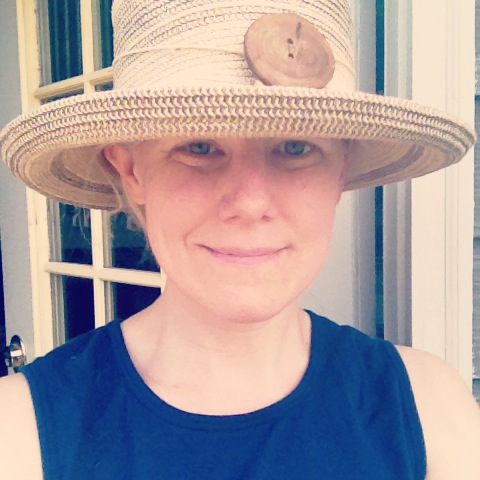 Today's diminutive, but lovely, little harvest.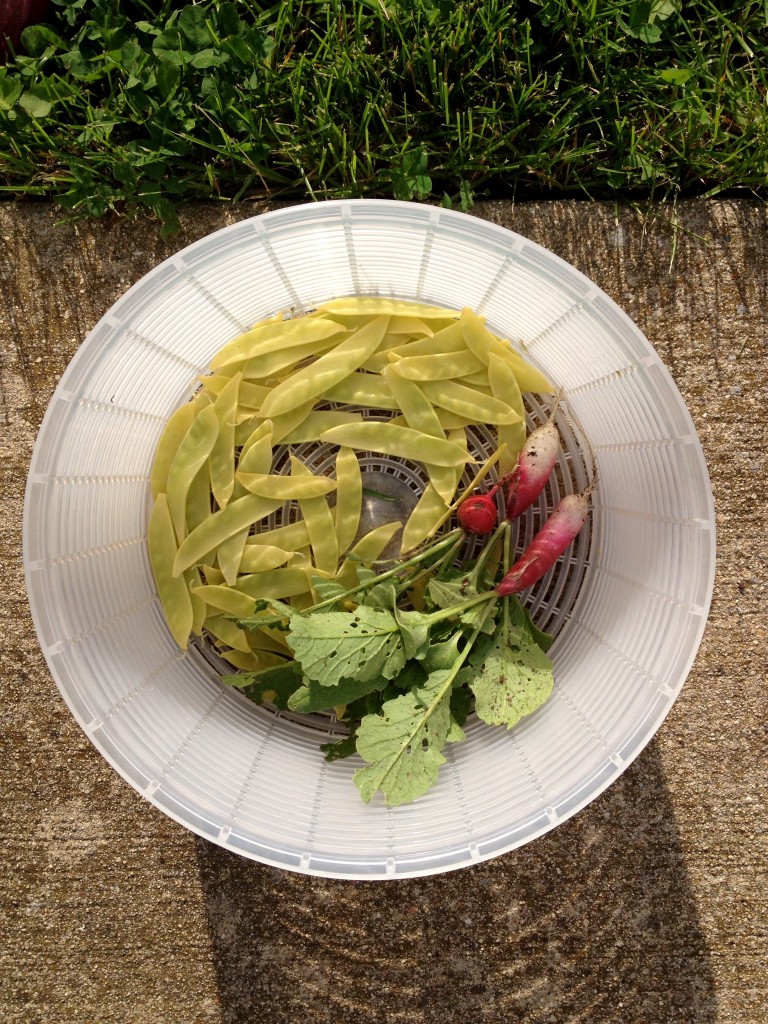 Our house, as seen through peas…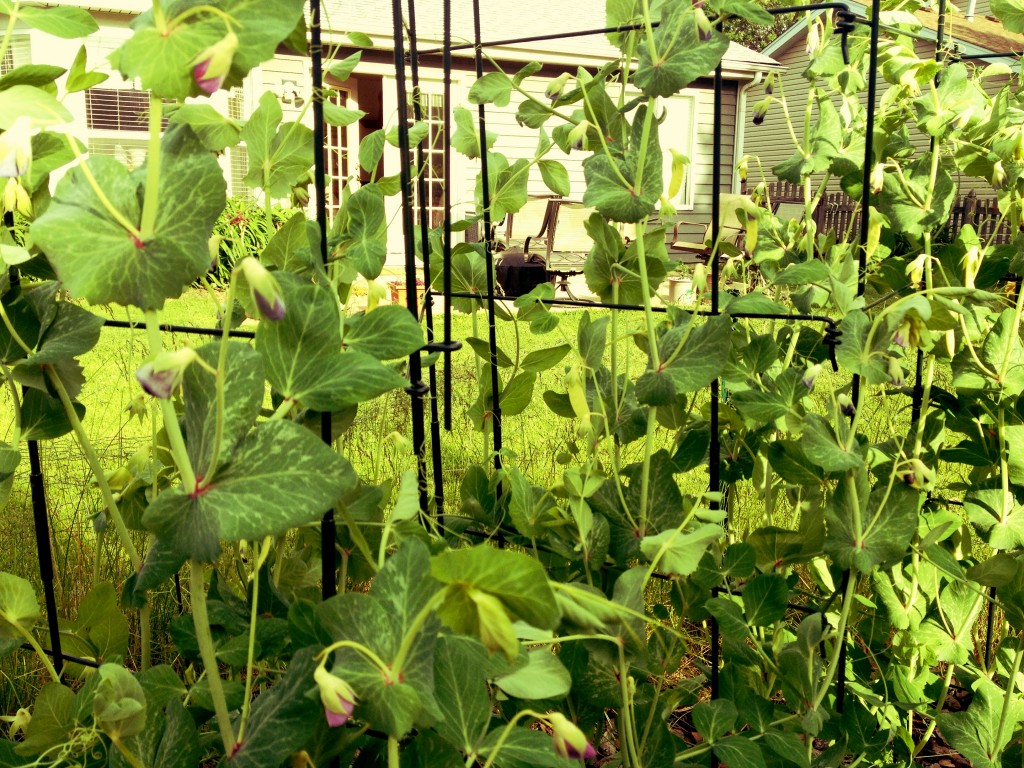 Hooray for a suburban garden. It's big enough, but not too big to get me into trouble.