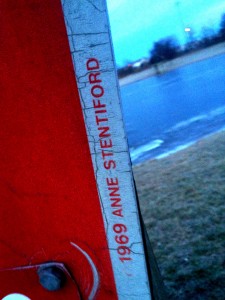 I saw Anne Stentiford's name on this sign in January, wondered about it, and decided to do some detective work. (Sort of like my obsession with manhole covers last fall.)
I found her address online and I wrote to her.  She was very kind and wrote me back. This NO SWIMMING / SKATING sign is the only one she's designed, and it all happened because of an idea she had in graduate school.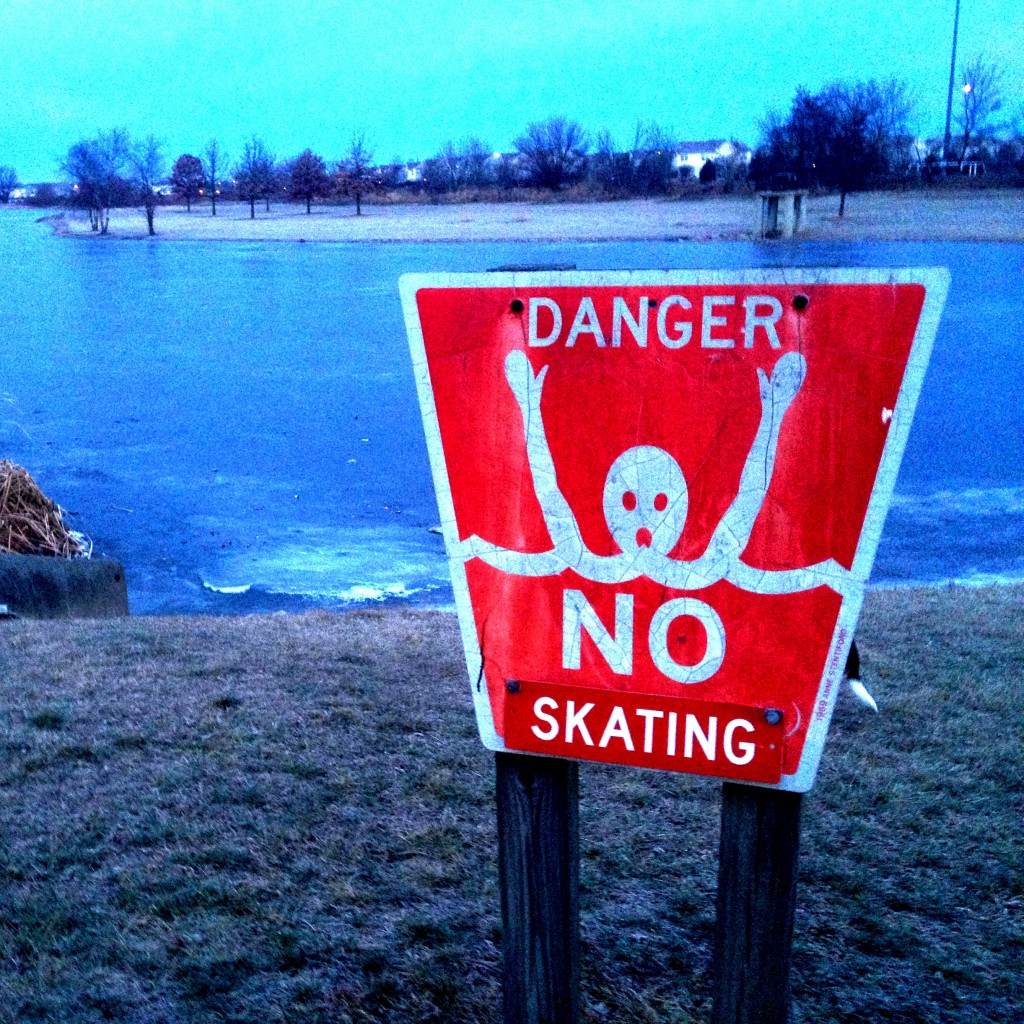 In the late 1960s, Stentiford was training to be an elementary school teacher and she needed a project for one of her classes. She'd heard one professor lament the lack of a NO SWIMMING sign that even small children could understand, and so she got to work. She asked her classmates to help her ask over 250 students in their classrooms to draw pictures of what they thought a NO SWIMMING sign should look like. Stentiford told me almost all the children used the color RED and they all wrote the word "NO." They almost all drew a picture of what might happen to them if they swam somewhere they weren't supposed to. As Stentiford put it in her letter to me, "Tell a child what not to do and he'll ask 'WHY?'  Show him what might happen to him and you'll have a good chance of him responding and retaining the message."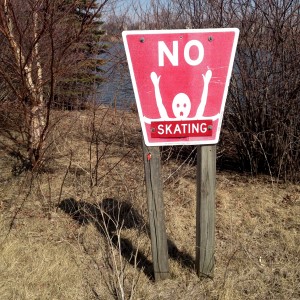 Anne copyrighted her design. In the early days, she and her husband produced the first signs themselves, with help from friends with a machine shop. Later, demand grew and because signs like these must also meet certain government specifications, Anne contracted a large sign company to fabricate the signs. Here, in her own words, she remembers:
Making the signs in our friend's machine shop was "a trip".  Our friend ordered .080 gauge aluminum and he cut out the shape with radius corners and pre-punched holes on standard centers… On Saturday nights the 4 of us silk screened the image on the signs, or I should say that the 2 men did that while the 2 women stood with paper towels and mineral spirits to wipe off the images that didn't come out right.  On Sunday nights we went back to stack the signs that were standing all over the shop to dry.  This all happened while I lived in Lakeland, Florida.  Shortly after that my husband got transferred in his job to Baton Rouge, LA.  At that time I quit teaching and contracted with a nationwide sign company to make the signs. 
That company is still making the signs and because I'm almost 80 years old I no longer actively market the signs other than through the website and a mailing that I did last year.  I feel an obligation to continue making the signs available and I do get orders for the signs.  The signs are sent to me from the fabricator and I actually ship them and process the orders myself. 
It's been a pleasure to correspond with Anne and learn more about her signs. I'm grateful she was willing to share so much with me.
If you'd like to order one of her signs, check out her website.