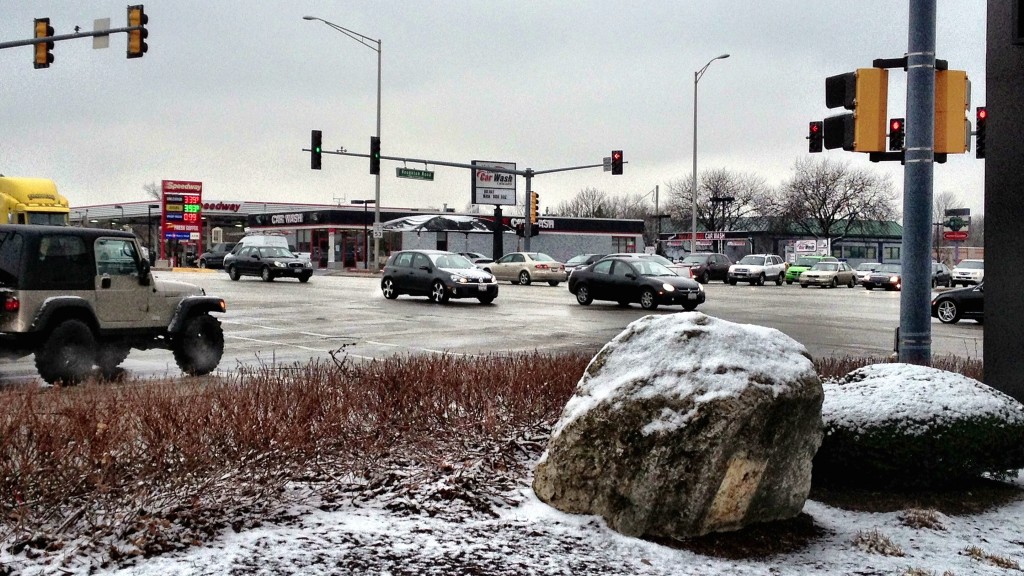 For a long time, there was a sad and empty stone marker in the corner of a parking lot at one of the busiest intersections in Bolingbrook. For 150 years, this place was "Barber's Corners."
You'd miss the marker if you weren't looking for it: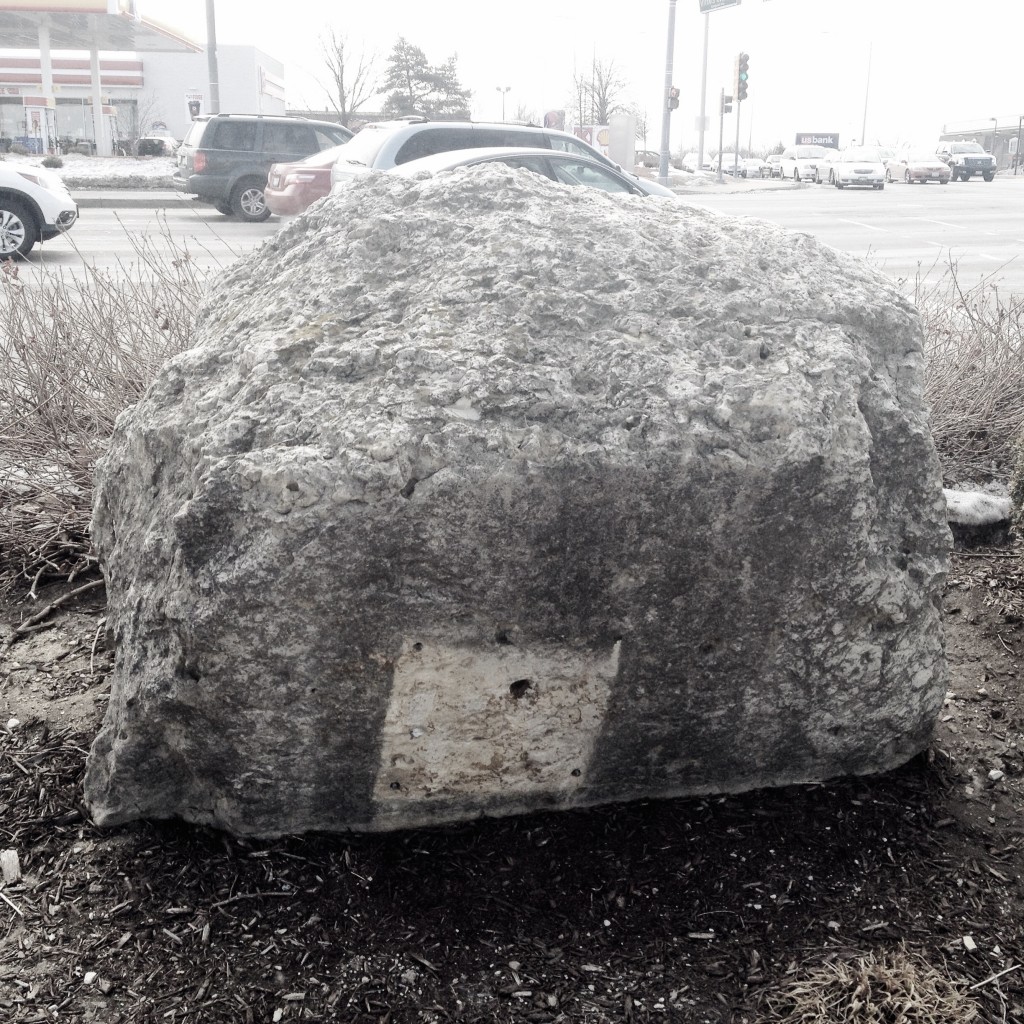 The Bolingbrook Historic Preservation Commission installed a plaque here in 1979. But after thirty years, dirt was filling in around the rock and the plaque got dingy, so they took it down.
***
In March 1832, Captain John Barber brought his family here from Rutland County, Vermont. They sailed across the Great Lakes and stopped at Fort Dearborn (now Chicago). They traveled west from the lakeside marshes and up into tillable prairie land. Barber claimed 211 acres (1/3 square mile) on the east side of the intersection (now Route 53 and Boughton).
Below center: you can see "J. Barber" on three tracts of land at this intersection, including their "Cheese Factory."
There's an empty plot of land still behind the intersection where you can squint and imagine what John and Emma saw when they first settled here: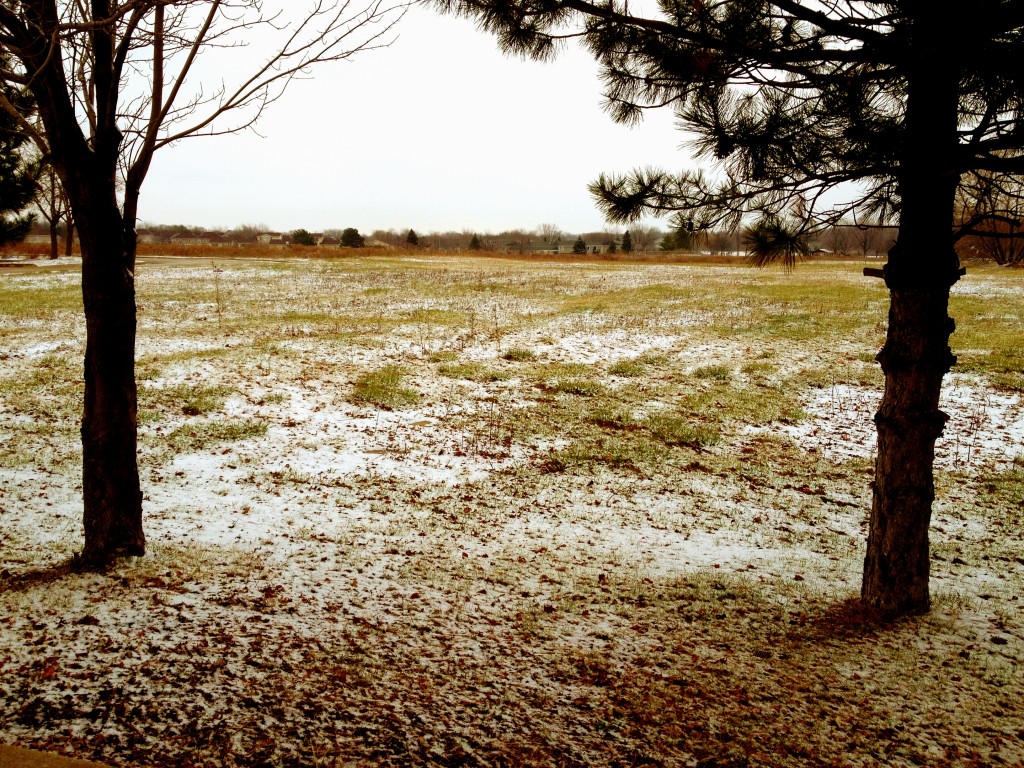 John Barber had humbly named the crossroads after himself: "Barber's Corners."
There had been Illini and Potawatomi Indians living here for generations, but they were driven out by U.S. troops. When the Barbers first arrived, the Black Hawk War was still raging in northern Illinois and southern Wisconsin. Soon, Chief Black Hawk and his renegade Sauk militia would be defeated.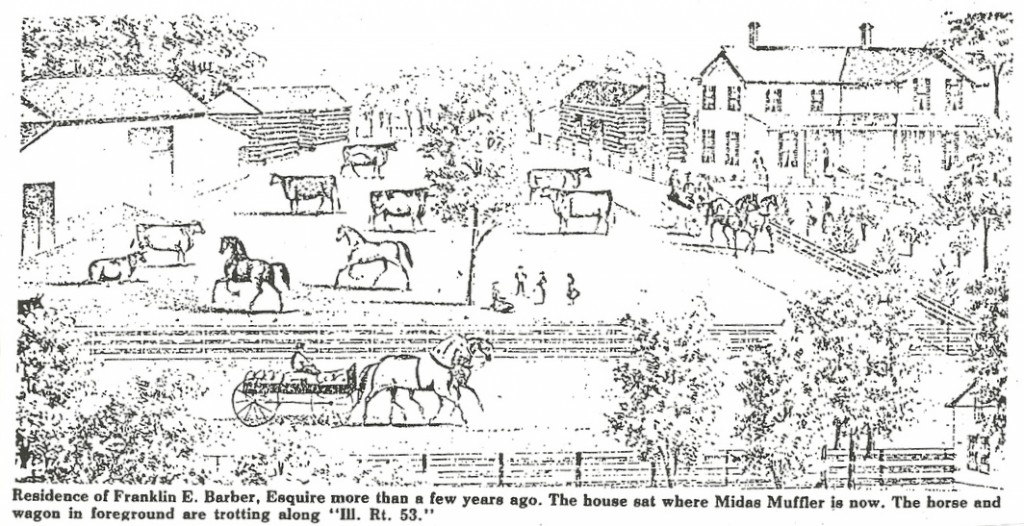 The Barbers probably sheltered in one of the nearby forts during times when the European settlers felt threatened (Fort Dearborn or Fort Payne in Naperville). Lucky them! Most local Indians were shipped off to reservations in Kansas.
Meanwhile, the Barbers helped charter the first church around here – First Presbyterian – and hosted the post office.
An access road that cuts through is now called "Barber's Corners Road," but nothing much else remains — the farm is now Midas Muffler, First Midwest Bank, Breathe Yoga, Honey Jam Cafe, Boughton Car Wash, KinderCare, All Saints Anglican, and Taco Bell.
John and Emma died in the 1870s and are buried just across the DuPage River in Boardman Cemetery (named for another Vermont transplant, Harry Boardman).
Their oldest son, Royal, became a prominent lawyer in Joliet – read some of his memories here, from 1900.
Here is Barber's Corners in 1955, long after the Barbers were gone and not long before suburban Bolingbrook was incorporated.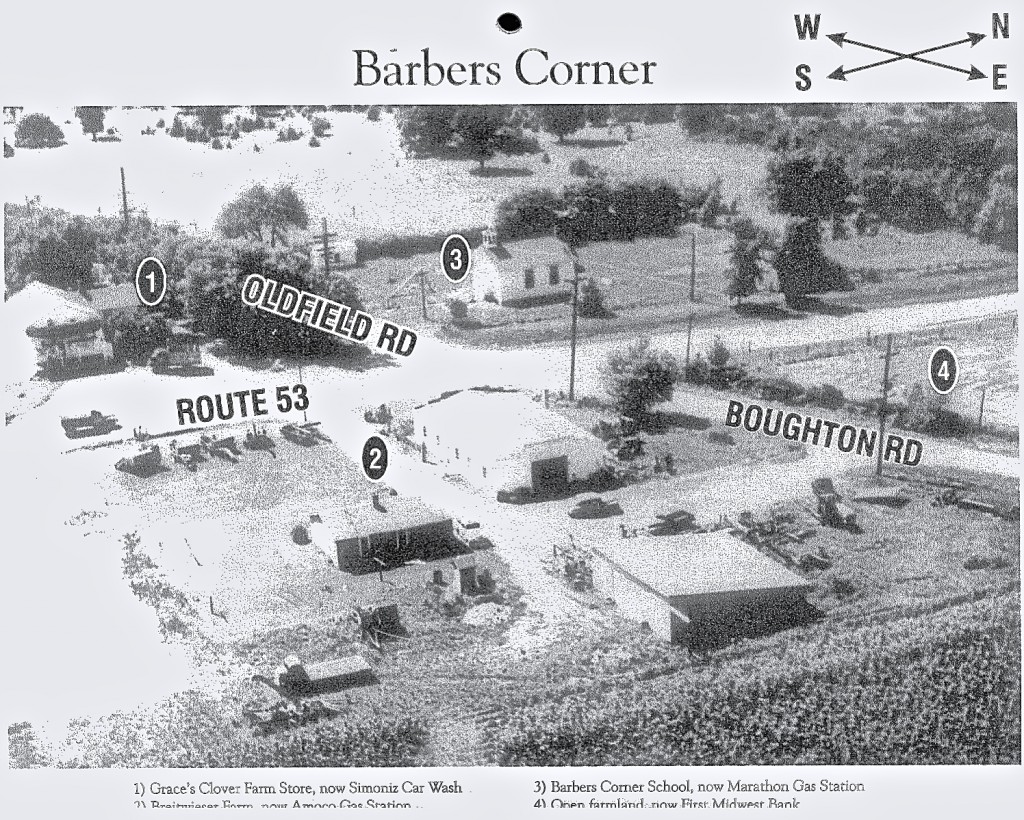 Here's the bird's eye view today. A little depressing, huh? (The red pin shows the big open field in the photo above.)
But Royal keeps me from romanticizing about working a farm in an isolated crossroads in the early 19th century, from his brief memoirs:
In the spring of 1833 he began to break prairie land, using five yoke of oxen (he was eleven years old!). From the time he was sixteen he taught school in the winters and farmed in the summer months. However, he found farm work (which was then all done by hand) too hard upon him, and the recurrence of chills and fever at each harvest season led him to determine to seek another occupation.
Makes me grateful for parking lots and gas stations, honestly.
The Barber plaque has been restored and put up on a signpost, right next to the original stone marker.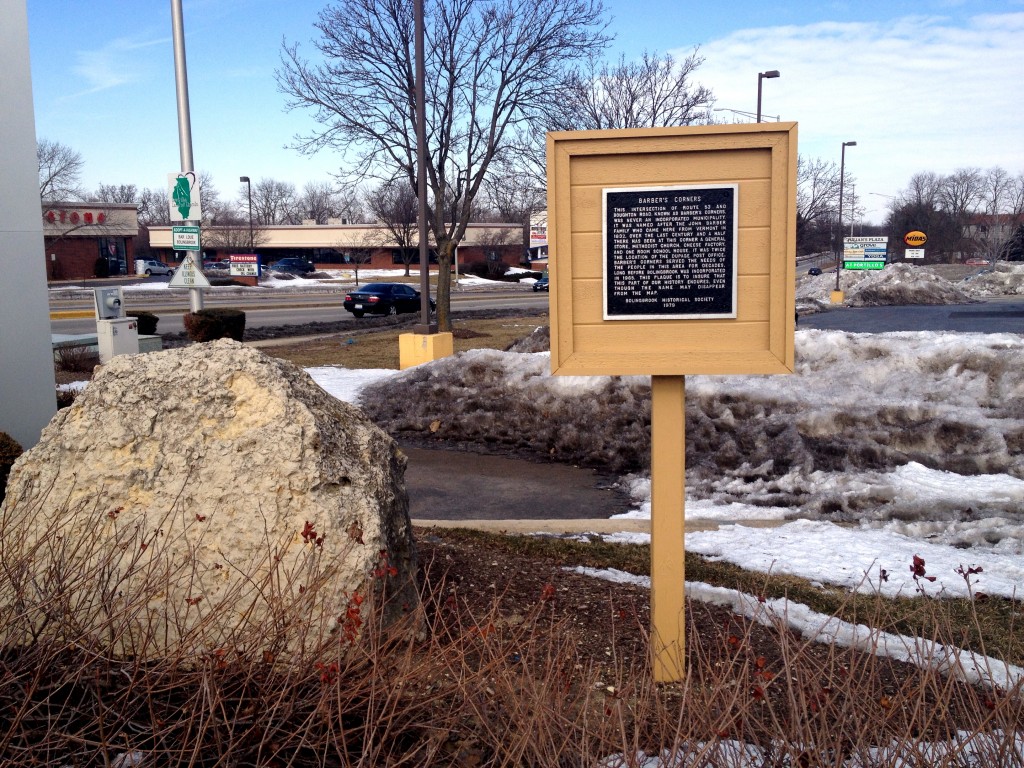 It's much easier to find now.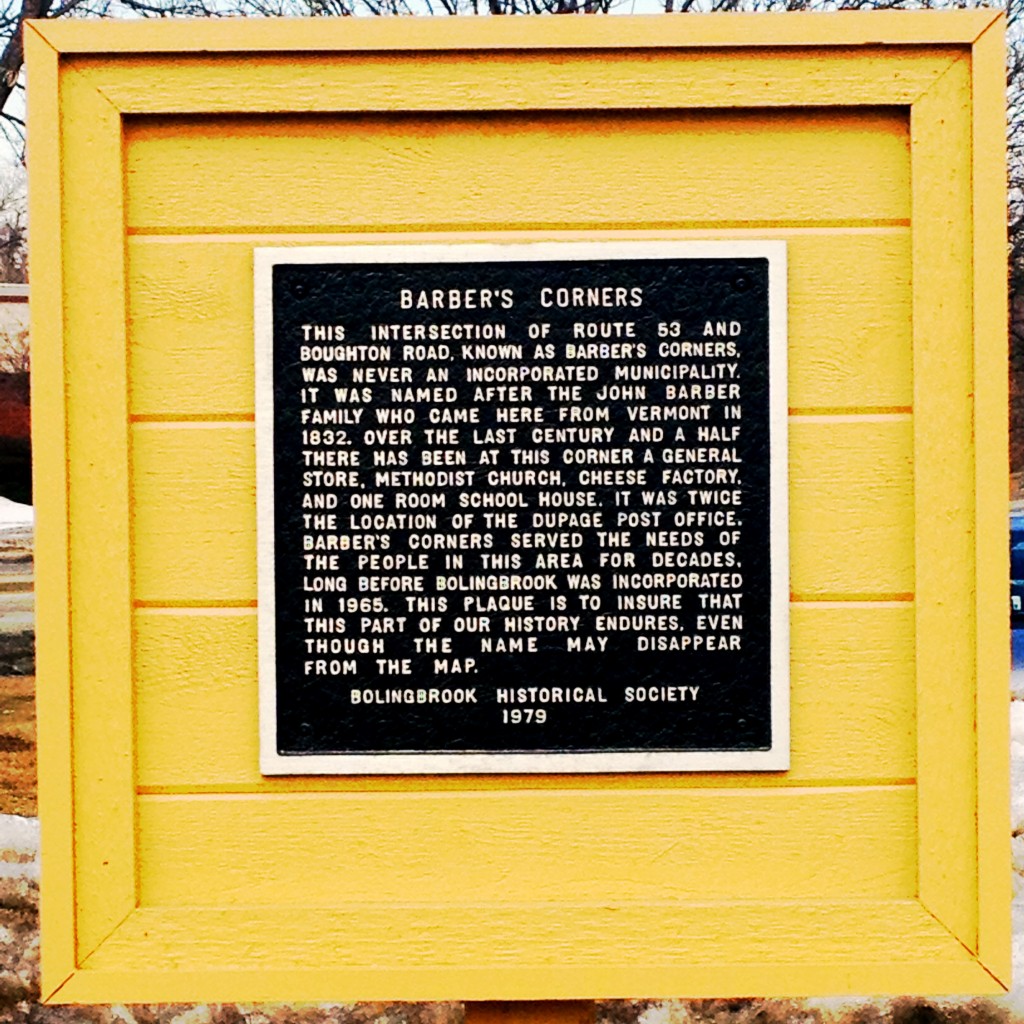 TEXT:
This intersection of Route 53 and Boughton Road, known as Barber's Corners was never incorporated municipality. It was named after the John Barber Family who came here from Vermont in 1832. Over the last century and a half there has been at this corner a general store, Methodist church, cheese factory and one room schoolhouse. It was twice the location of the DuPage Post Office. Barber's Corners served the needs of the people in this area for decades, long before Bolingbrook was incorporated in 1965. This plaque is to insure that this part of our history endures, even though the name may disappear from the map.
This post was compiled with information from The Bolingbrook Historic Commission, the Will County Historical Society, the US GenWeb Archies, Deb Haines, and newspaper.com.